Marshall rocks green cleats, Giants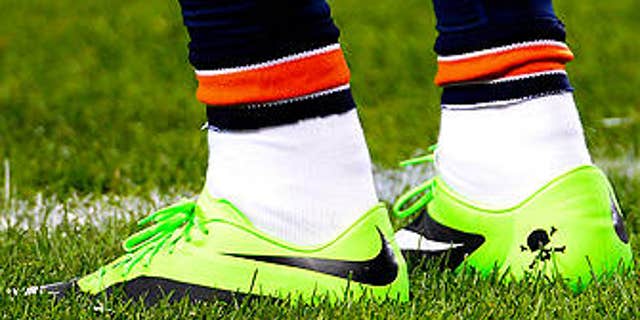 How often do you show up for work after you've been told you're being docked pay before you even back the car out of the driveway?
That was the case for Bears receiver Brandon Marshall on Thursday night, but the fineable offense was so dear to his heart, he was willing to eat the money, then match it and donate it to charity.
He may want to tick off the NFL fashion police more often.
Marshall took the Soldier Field turf sporting these bright green concoctions, despite being told Wednesday by the NFL that he would be fined (reportedly $10,000) if he went through with his pledge to wear them. The league had originally threatened to not allow him to even take the field in the shoes.
We're not sure if the bottoms of the cleats were bright green, but the New York Giants sure know. Because they spent all night chasing after and being out-jumped by Marshall, to the tune of nine catches, 87 yards and a pair of TDs in the Bears' 27-21 win over the Giants .
While the rest of the league spends October in a hue of pink for Breast Cancer Awareness Month, Marshall, who was diagnosed with borderline personality disorder (BPD) in 2011, was wearing the cleats in support of Mental Illness Awareness Week .
"I'm going to get fined and I'm going to match that, and we want to partner with a cancer-care (charity)," Marshall told ESPN Chicago on Wednesday . "We're still working on the details to give, really give back to an organization that is doing work in the mental health area. (Also), the diagnosis of breast cancer can hit families hard. It affects all of us."
He told The Associated Press on Tuesday: ''I know there's going to be cameras on me, it just makes my platform that much bigger. I really embrace it. I truly believe that football is my platform not my purpose.''
The move brings back memories of Metta World Peace, who while he was still Ron Artest auctioned off his Lakers NBA championship ring in 2010 to raise money for mental health charities, taking in more than half a million dollars.
Clearly the results were what Marshall wanted . As for the public's reaction?
As a mental health professional, I salute Brandon Marshall's effort to create awareness with green cleats. pic.twitter.com/I5BZTHgDbK @BMarshall
-- NFL Retweet (@NFLRT) October 11, 2013 Yesterday Brandon Marshall wore green cleats to promote Mental Health awareness, he is matching the fine he got to a charity. Great lad.
-- David. (@Davey_has) October 11, 2013 Respect to Brandon Marshall wearing green cleats for mental awareness week
-- Esam Izzat (@EsamIzzat) October 11, 2013 No biggie Brandon Marshall and I rock the same cleats
-- SireSchultz (@schultzy1909) October 11, 2013 The fact that the league fined Brandon Marshall for wearing lime green cleats for mental health awareness week is absolutely ridiculous ¿¿
-- Haley Luke (@h_luke17) October 11, 2013 I want to get a pair of those Brandon Marshall cleats he wore tonight
-- R C (@KnuckleDuster81) October 11, 2013 I enjoy Brandon Marshall's neon green cleats. I enjoy the reason why he's wearing them even more.
-- NycoHerzog (@NycoHerzog) October 11, 2013 I became a Brandon Marshall fan tonight. Not because of the big game, but 'cause the green cleats raised awareness of mental health. Bravo.
-- Sean Leslie (@TheSean14) October 11, 2013