Marlins notes: Miami to use offseason to create innings plan for Jose Fernandez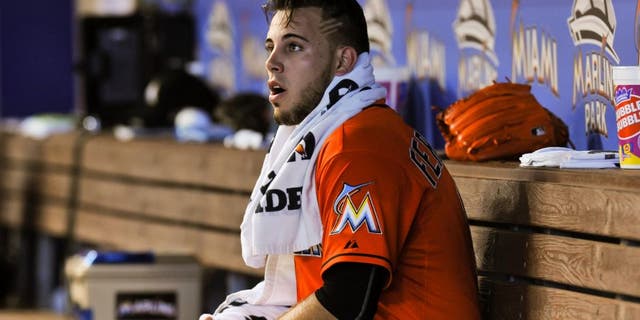 NEWYou can now listen to Fox News articles!
MIAMI -- How the New York Mets handle the Matt Harvey innings limit amid controversy remains to be seen.
Miami Marlins ace Jose Fernandez, who underwent Tommy John surgery in May 2014 and returned July 2, will be another top arm facing a similar scenario next season.
Fernandez, who shares the same agent as Harvey, has thrown just 43 innings in 2015 and has been sidelined since Aug. 8 with a right biceps strain. He and the team expect his return sometime mid-September.
In 2014, the 23-year-old righty threw 51 2/3 innings before undergoing the procedure. That followed a National League Rookie of the Year campaign that went to 172 2/3 innings. His workload has, naturally, been limited. That means the organization will be cautious with a pitcher who hasn't thrown a full season since 2013.
"I think it will be common sense-related where it's concerned, but I also think that Jose in his mind -- in talking to him -- he wants to come back this year," manager Dan Jennings said. "He wants to pitch to have peace of mind going into the offseason. I think we'll address the offseason and the plans for him next year whether it's potentially skipping starts, adding a day somewhere here or there, realizing that essentially it's been a year and a half he's gone through a full major-league season.
"We'll put a plan together that will make sense and what it may mean. (If) we got a chance to skip him a day right there, we will. Maybe skip him a start, and that's something we can put together over the offseason or early spring training and be mindful that he's been removed a year and a half, essentially."
RETURN OF COSART
Right-hander Jarred Cosart will start Sunday's finale against the New York Mets.
Cosart, who was recalled Friday and pinch-ran in the 10th, will have a 60-85 pitch limit in his first start since July 4. Twice this season, Cosart has dealt with vertigo due to an inner-ear disorder. After suffering a relapse in July, he threw three rehab games in the minors.
According to Jennings, reports have been positive concerning Cosart's stuff, velocity and action on his pitchers. Now, it's a matter of building his stamina back up.
"Health No. 1. for him to regain the form that he had last year utilizing his pitches that made him so effective," Jennings said. "He's back, he's healthy and it's time for him. There's peace of mind now knowing what caused the inner-ear disorder. I think in his mind now there's comfort in knowing, 'I'm good, I'm healthy, I'm stretched out and ready to go.'"
INJURY UPDATES
Though setup man Carter Capps has been experiencing discomfort while throwing off a mound, Jennings believes the 25-year-old flamethrower will appear in a game before the season ends.
Capps went on the disabled list Aug. 3 with a right elbow strain that took him out of an outing.
"It's a progression to get back on the bullpen and feel comfortable throwing off that decline," Jennings said. "It hadn't been an issue. It's just been a level of uncomfortableness when he's been on the mound. The flat ground's been great, so he backed off it a little bit when he felt a little discomfort on the mound. Now it's about getting him back on the mound and letting him have that time up there when he doesn't feel any discomfort on the decline."
Left-hander Chris Narveson, who exited his last start with a blister, will return to the bullpen in a long relief role. Jennings hopes he will be available Sunday.
STICKING WITH RAMOS
Jennings gave his vote of confidence in closer AJ Ramos, who has struggled in the second half.
Ramos blew his third save since the All-Star Game on Friday night, jumping his ERA to 6.50 after it rested at 1.11 heading into the break.
"The one thing I'm seeing is that in certain counts when he's looking to put a guy away (there's) missed location," Jennings said. "It's a little bit of bad luck, it's some missed location, but right now if we get into that situation tonight he's our closer and we'll go to him.
"... He's the closer. He's the closer right now and he's earned it. The one thing about AJ -- he has a short memory and he's got ice water. I think he will adjust some things that he's seen, at the same time a lot of it has to do with the location of his pitches."
You can follow Christina De Nicola on Twitter @CDeNicola13 or email her at cdenicola13@gmail.com.