Marlins notes: Jose Fernandez, Rich Waltz take Ice Bucket Challenge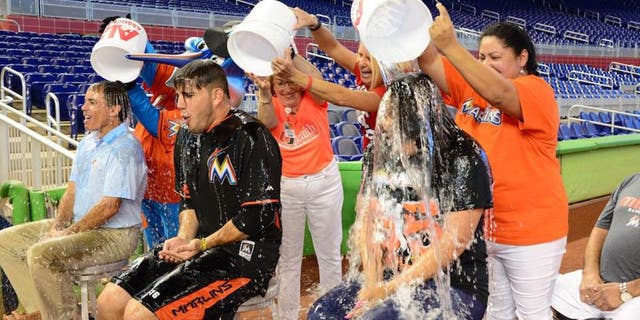 NEWYou can now listen to Fox News articles!
MIAMI -- With temperatures reaching the 90s, South Floridians continue to look for ways to cool down.
Miami Marlins ace Jose Fernandez and FOX Sports Florida broadcaster Rich Waltz found a charitable option, taking part in the ALS Ice Bucket Challenge on Saturday afternoon before batting practice.
Major League Baseball announced that its 30 clubs would participate in the return of the challenge, popularized last year on social media. Throughout August, each club will host its own and then challenge another organization.
All-Star third baseman Todd Frazier and the Cincinnati Reds sent the challenge to Fernandez, while mascot Rosie Red passed along to Waltz. In return, Fernandez challenged All-Star outfielder Adam Jones and the Baltimore Orioles. Waltz requested Orioles play-by-play announcer Jim Hunter take part.
"It means a lot," Fernandez said. "This is for a really good cause. I'm just proud of it and I think it's great that baseball actually gets a chance to do this and show the world to be aware of things out there. I think it's great."
On Sunday night, Fernandez will kick off his Uncork for a Cause charity program to raise awareness and funding for the Marlins Foundation and the ALS Association Florida Chapter.
The gathering at Cibo Wine Bar on South Beach will include Fernandez and special guests. There will be an auction of Marlins gear, local and national sports items as well as wine.
"That's what it's all about -- the people in the community," Fernandez said. "That's what it's all about. It's not only about being out there on that mound and doing what you love. When you're in that position you have a chance to help people who really need it and really appreciate it a lot. I'm lucky and blessed to get a chance to do this."
INJURY UPDATES
-- Right-hander Jarred Cosart (vertigo) threw four scoreless, two-hit innings in a Gulf Coast League game against the Cardinals on Saturday morning in Jupiter.
He struck out two batters and walked another with a wild pitch. Cosart induced seven groundouts and two flyouts. His velocity reached 95 mph. According to manager Dan Jennings, Cosart will likely need two more before re-joining the ballclub.
"Very, very promising report," Jennings said. "Good to hear. Now we're determining if his next rehab is gonna be at a higher level and get him moving. It was very positive. ... Marty said it was very good. Filled up the strike zone. His stuff was there."
-- Setup man Carter Capps (right elbow strain) will toss a second bullpen Sunday before a rehab assignment in Jupiter. If all goes according to plan, the flamethrower should be reinstated from the disabled list by Friday for the roadtrip -- if not sooner.
"He'll be progressed towards some rehab stints probably in Jupiter, get him to where he's back-to-back available and then he should be ready to go as well," Jennings said. "Either that or stretch him out to a good 25 pitches. Sometimes these guys go out, especially on rehab, and might throw nine pitches. If you get them back-to-back it's good because they get up and they get hot."
-- Outfielder Cole Gillespie, who exited Friday's game in the sixth with a sore left wrist after the ball hit him while diving for a flare two innings earlier, is available Saturday.
"He went in the cage and hit and responded in a good way," Jennings said. "That was good to see."
You can follow Christina De Nicola on Twitter @CDeNicola13 or email her at cdenicola13@gmail.com.