March Madness: Latinos Take Part in The NCAA Tournament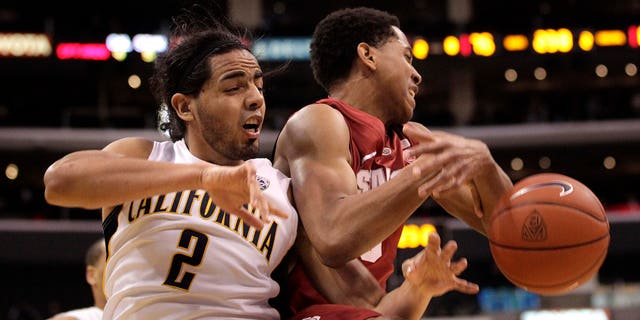 So welcome to that time of the sports calendar when folks participate in various office pools, sit behind their desks listening to the game or watching online hoping that their bosses don't catch them.
Some might even play hooky from work on Thursday and Friday to catch their alma mater or favorite team play the Cinderella role and upset a high seeded team.
It's March Madness and it's time to dance.
The beautiful thing of this is that everyone is now 0-0 and anything can happen in this tournament.
Just ask Virginia Commonwealth University who last year were at the back of the line trying to get into the party, crashed it and made it all the way to the Final Four.
Frank Martin is making his fourth trip in his five years as the coach at Kansas State as the eight seeded Wildcats take on the nine seed Southern Miss on Friday night at Pittsburgh in the East Regional.
The Cuban-American fields a young team this time around. Martin has counted on junior big man Jordan Henriquez, who's capable of posting double-double numbers and freshman point guard, Angel Rodriguez, who started the season on the bench but is now the starter.
Devoid of NBA talent that had them in the Elite Eight two years ago, Martin is confident this time around with his young bunch after the Wildcats were bounced out in the third round last year by Wisconsin.
"This year we're younger. We have a group of young guys that are very young and have played a great amount. We have two freshmen that play a lot of minutes and also have two sophomores that play a lot of minutes. We're young compared to the team we had last year. This group has played a lot during their careers and the experience will help," Martin told Fox News Latino over the phone hours after they were chosen by the selection committee Sunday evening.
Martin sees his second round match-up as just another game.
"We have to prepare because I'm the same way every game. We have to prepare ourselves the best way possible heading in game X which is our next game. We have to play the best game we can play and look for a way to win that game," Martin said.
Connecticut gets to defend it national championship as a nine seed when they meet Iowa State in the South Region of the tournament in Louisville, Kentucky.
The UConn Huskies almost saw themselves out of the big dance as they went 8-10 during their regular season Big East schedule and needed good run at the Big East tournament in New York City. While they didn't repeat their five wins in five days stretch from last March at Madison Square Garden, the Huskies were able to pull out two victories but lost in the semifinals to Syracuse.
The Huskies and Coach Jim Calhoun should be thanking Shabazz Napier. Had it not been for the point guard's 22 of 26 points in the second half of their quarterfinal overtime win over West Virginia, they could have been well on their way to a NIT bid.
Instead Napier and company will aim to bring the school its fourth national title all under the great Calhoun despite speculation that he could step down due to health reasons.
"We'll go as far as we can --- its six games, and again, you take it one game at a time and see what happens. We have a tough road ahead of us, but we have a great team," Napier told FNL. "I feel like we have finally found ourselves as a team and I feel now we have a great team to make a move with. God's on our side and I think everyone on the team is ready to fight for us. I just hope we play well in all our games."

Then you can't have March Madness without your Cinderella's.
Iona College was just waiting and waiting for the call and point guard Scott Machado, whose 10 assists per game led the nation, wondered if the Gaels would actually get an at-large bid after losing in the Metro Atlantic Athletic Conference tournament semifinals to Fairfield.
The Gaels were the favorite to win the MAAC and get the automatic bid. Instead they were one of the last teams in, becoming the first team from the league to get an at-large bid since Manhattan did so in 1995 when the Jaspers beat Oklahoma in the first round.
The road will be tough for the 14seed as they will go up against BYU as the First Four in Dayton.
Machado, who calls himself a "pass-first point guard", along with Lamont 'MoMo' Jones form one of the best backcourts in college hoops and could give the Cougars, a team that likes to slow it down a bit, a tough time although
"We believed that we were going to but we knew it was a very slight chance. We were hoping that we just made it in," said Machado, whose parents are Brazilian.
Perhaps the Gaels samba their way through this tournament the way VCU did last year.
"This is the time of year when you have to play your best basketball and when you're playing your best basketball (and) we're playing our best basketball, it's hard for people to play with us."
Another First Four game will have California and Jorge Gutierrez, the Pac 12 player of the year, battle South Florida in a match-up of No. 12 seeds.
The Golden Bears find themselves in this position of do or die after losing three of their last four games.
Creighton's Gregory Echenique will get a taste what the college basketball postseason is all about now. The Venezuelan spent the summer playing on his country's national team and sat out last year after transferring from Rutgers.
He could have gone to Duke or some other big time programs but bought into the program at Creighton. The Blue Jays won the Missouri Valley Conference tournament and earned an eight seed in the Midwest Region, facing ninth seeded Alabama.
The Blue Jays got hot at the right time, riding a seven game winning streak. They're looking for their first tourney win since 2002, an upset over Florida as a 12 seed. It's their first trip back since 2007, which resulted in a loss to Nevada in the first round.
But you can't have a field of 64 vying for a title shot without a team that many would think won't have a chance.
Maybe the glass shoe will fit.
16 seeded LIU-Brooklyn and Arnold Mayorga, a Canadian whose parents are from Nicaragua, will be looking to shock the world and become the first 16 seed to beat a one seed when they face Michigan State on Friday night at the West Regional in Columbus, Ohio.
We won't know until the games are over but right now everyone's got a shot.
Adry Torres, who has covered MLB, NFL, NBA and NCAA basketball games and related events, is a regular contributor to Fox News Latino. He can be reached at elpiloto137@gmail.com or follow him on Twitter: @adrytorresnyc.
Follow us on twitter.com/foxnewslatino
Like us at facebook.com/foxnewslatino