Legendary Dodgers announcer Vin Scully undecided on returning for 2016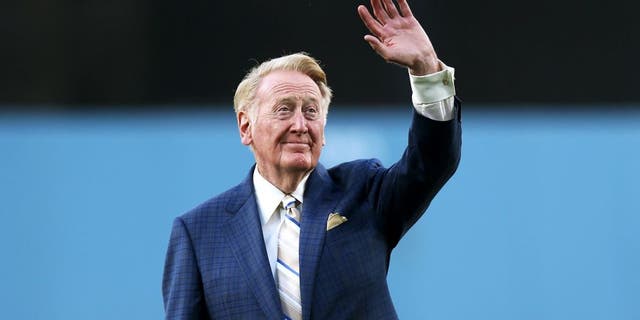 Every year around this time, Vin Scully announces whether or not he'll lend his iconic voice to Dodgers broadcasts for another season, but this year, the legendary announcer is holding off on declaring his intentions for next season.
Scully has told the Los Angeles Times he has not yet made a decision on returning to the Dodgers for a potential 67th season.
"He said he does not want to commit too soon," the Times writes.
The Hall of Fame broadcaster, who is known for his storytelling and poetic tongue, says that he is in good condition health-wise as he gears up to turn 88 this off-season.
Scully, who joined the Dodgers in 1950 when the team was still in Brooklyn, relocated with the team when they moved to Los Angeles in 1958 and has been a cultural fixture in the city for decades.
Other than his health, Scully also usually factors in his efficacy as a broadcaster and the opinions of his family and friends into his decision on whether to keep announcing Dodgers games or hang up his mic for good.
Whatever the factors might be that influence Scully's decision, Dodger fans and baseball fans around the world alike hope that Dodger games will continue to open with Scully's signature line.
"It's time for Dodger baseball!"