LeBron praises Paul George for passing, says 'best player' doesn't have to take last shot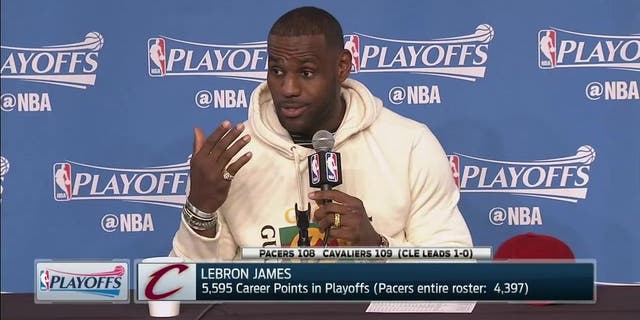 NEWYou can now listen to Fox News articles!
Paul George was in a familiar position for superstars Saturday: ball in his hands in the final seconds with the game on the line.
LeBron Jamesrecognized that and double-teamed George, who passed the ball to C.J. Miles for a shot at the buzzer that missed, sealing the Cleveland Cavaliers' 109-108 win over the Indiana Pacers.
Anyone but Paul George can take that final shot and we live with it, James told ABCs Lisa Salters after the game.
Naturally, Skip Bayless and other critics complained that George, the Pacers' best player, needed to make sure he took the last shot.
But LeBron, who's been known to pass up a big shot at the end of the game, said George "made the right play" and argued that "the best player on the floor doesn't (have) to take theshot."
"If I get doubled, I'm giving it up," James told reporters. "That's me. …Ifyou get doubled, I think we all know math in here: If it's two guys on the ball, that means it's a 4-on-3. We have good numbers. You know, so, the best player on the floor doesn't (have) to take the shot. You know, I think he made the right play."
George, however, didn't completely agree, saying he needed to get the ball back.Situations like that, Ive got to get the last shot," he told reporters.