Leave Mark Sanchez Alone, Jets Deserve More Hate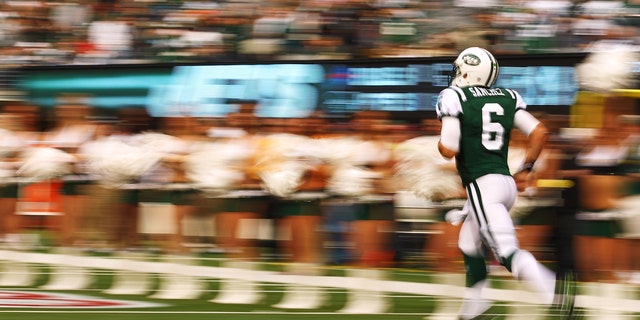 Everybody hates Mark Sanchez.
At least that's the impression one gets reading Wednesday's much-talked about New York Daily News story about the Jets quarterback. The story, which set off a storm of controversy (both in the traditional press and on social media), cites nothing but anonymous sources, and they criticize Sanchez for everything from his playing ability to his mental toughness, calling him lazy, babied and complacent.
It's worth noting that on the record, Sanchez is not universally despised. Teammate Nick Mangold took to Twitter calling the story "false," adding "If 'unnamed sources' want to attack Mark, man up and put your name to it."
The Jets center also took to the media to defend Sanchez.
"I've never seen anybody work as hard as Mark has," Mangold told ESPN. "I support him fully, and I think the locker room does as well."
Jets offensive tackle Wayne Hunter echoed that sentiment, telling ESPNNewYork.com he backs "Mark all the way." Hunter added that it wasn't just Sanchez who shouldered the blame for the team's offensive weaknesses.
There's no question the Jets underperformed this season, and that Sanchez, as quarterback, shares some responsibility for those shortcomings. There's definite truth to the assertion that the third-year signal-caller has not progressed to the level the team and many fans had hoped he would after the Jets made him a first-round pick out of the University of Southern California.
At the same time, he did nothing in the 2011 season to expose himself to be a radically different quarterback from his first two years in the NFL. Certainly, it would be ideal for Sanchez to experience a significant uptick in numbers early in his career, but he hasn't fallen off a statistical ledge either.
Sanchez has remained relatively constant, even if that means consistently toward the bottom when it comes to NFL quarterback rankings. He was 23rd in passer rating (78.2) and yards per attempt (6.4) and 28th in completion percentage (56.7) in 2011. A year prior, when he was still being touted as a future face of the franchise, Sanchez was 26th in yards per attempt (6.49), 27th in passer rating (75.3) and 29th in completion percentage (54.8).
As the Jets advanced to the AFC Championship Game the last two seasons and were surrounded by Super Bowl expectations, Sanchez was never cited as the key to the team's success. Those discussions centered on the Jets' defense and rushing attack, which were among the NFL's best.
Sanchez had to be good enough, and he proved himself capable. He came through in the playoffs, improving upon his regular-season numbers and helping bring his team twice within a game of the Super Bowl.
Sure, Sanchez isn't a Hall of Fame quarterback. And contrary to the public image he's worked to build up, he might not even be a likeable guy.
But if the Jets organization is filled with anonymous players and team sources who are unwilling to give their names, but willing to throw their quarterback under the bus, one has to believe the issues the team faces are far greater than simply a problem with its quarterback.
Success in team sports relies not just on the quantifiable contributions of players as indicated in the box score, but on a level of chemistry and respect within the locker room. Players don't have to like each other. They don't have to be friends. But they have to be able to at least work together as a cohesive enough unit on the field to get the job done. It's clear the Jets lack this key component. That can be far more damaging to a team than a so-so quarterback.
Follow us on twitter.com/foxnewslatino
Like us at facebook.com/foxnewslatino