Kevin Durant has a blunt message for fans upset by Warriors and Cavs dominance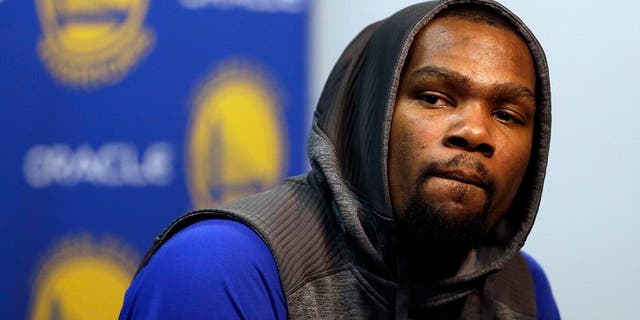 It feels like the Cleveland Cavaliers and Golden State Warriors have been trying to one-up each other during this years playoffs. The Cavs are coming off one of the most lopsided wins in playoff history over the Celtics, and the Warriors are one win from advancing to their third straight Finals appearance as theyve made quick work of the shorthanded Spurs.
NBA fans have anticipated Round 3 between these two juggernaut teams in the Finals, but the eye-opening margin of victory by Cleveland and Golden State has left the road to the rematch lacking any sort of drama.
After the Warriors 120-108 win in Game 3 on Saturday, Kevin Durant was asked about this alarming trend of dominance by Golden State, which put up an average playoff margin of victory of 16.6 points per game while Cleveland has beaten teams by 13.4 points.
Durant said he understands the fans thirst for dramatic games but had a straightforward message to those who havent enjoyed the playoffs so far.
"The fans, they always want to see a tight game, they want to see a buzzer beater every game, but it's not like that sometimes," Duranttold reporters. "You have your years where you have great playoff series, four or five Game 7s, and then some years you have what you see this playoffs. But as players, we wanna go out there and win by as much as possible, and play as great as you can. Whatever happens with the score, happens.
"Relay that to the fans who feel upset. If you don't like it, don't watch it."
Soobum Im-USA TODAY Sports | Soobum Im