Kenseth still on gas at 500th race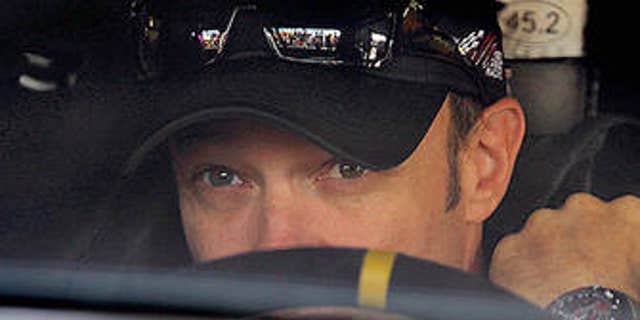 NEWYou can now listen to Fox News articles!
LOUDON, N.H. – Matt Kenseth would rather talk about milestones and wins than the number of races run.
Even though Kenseth, 41, will make his 500th career Sprint Cup this weekend at New Hampshire, the current points leader would just as soon run under the radar while battling for his second NASCAR championship.
"You know me, I would rather not have the attention for it, because in a way it makes me feel old," Kenseth told FOXSports. "In another way, it is something to be proud of. There's not a huge number of drivers that have had 500 starts and have been with competitive teams and have been able to still win races after being here this long. So I am proud of that, I guess."
The race is scheduled for Sunday, but rain is in the forecast.
While Kenseth may intimate he's feeling his age, he has shown no signs of slowing down on the racetrack. Last weekend at Chicagoland Speedway he got his 30th career win -- and a personal-record sixth victory for the season to retain the points lead following the first race in the Chase for the Sprint Cup.
Despite a few setbacks with the Toyota Racing Development engines this season and the suspension of his crew chief Jason Ratcliff during Darlington weekend in May, Kenseth's transition to Joe Gibbs Racing has been virtually flawless. From the day Kenseth walked into JGR, he felt "really good about everything they had going on there" -- and over time his confidence in the crew continued to grow.
Kenseth's average qualifying effort of 8.9 is four positions better than it's been in his entire career. And having the caliber of teammates such as Kyle Busch and Denny Hamlin at his disposal to lean on has paid dividends as well. For instance, Kenseth never has won at the Magic Mile. His average qualifying effort was 20.8 entering the weekend, but he posted the ninth-fastest time on Friday, and the No. 20 Home Depot Toyota was second-fastest in Happy Hour after he drew data from his teammates.
"It's a little bit of everything," said Kenseth, who posted just his second top-10 in six years at New Hampshire in July. "It's a people sport. It's all about the organization, and certainly my teammates are really, really good everywhere we go.
"I feel like this is a weak track for me, personally. So I probably lean on them harder and work with them more here, maybe more so than somewhere else. They're always a big help everywhere. We always try to help each other."
Kenseth's influence has been felt by his teammates as well. Busch is having a career-high run in the Chase and trails Kenseth by just eight points. Between the two drivers, JGR boasts 10 victories after 27 races -- the earliest the organization has reached that mark in a season.
"Kenseth is very knowledgeable," Busch said. "I mean, he's a great race-car driver. We've known that. I think that's why we went to him and talked to him and asked him to come over and join our team. He's had a good sense this year of ... adding to our program and knowing what to add.
"Whether it's been the engine stuff or chassis stuff or what he's felt with his cars in years past and what our cars do differently better or wrong."
With nine races remaining in the Chase, the potential exists to have a JGR battle for the title similar to the rows between Hendrick Motorsports teams in the past. Although it would be naive to discount the ability for the No. 48 team and Jimmie Johnson (who trails the No. 20 team by 11 points) to go on a tear, if Kenseth can post a solid finish at New Hampshire and survive Martinsville, he could be celebrating his second Cup championship in November.
"Oh, gosh," Kenseth said. "I don't know. There's so much racing left to do. ... I feel good about the way we've done here, the things we've looked at and the speed we have, but you still have to turn all that into a finish."
GETTING BACK ON THE HORSE
Bobby Labonte returned to the seat of the No. 47 JTG/Daugherty Toyota this weekend for the first time since he tumbled off his bike on Aug. 28.
Labonte, who will start 28th on Sunday, broke three ribs and punctured his lung in the crash.
"Nothing really hurts, so it's not that bad," said the 2000 Sprint Cup champion. "It's not that it doesn't hurt any, it's more like if you run a little bit and your knee hurts or your hip hurts. That's kind of where it's at. It's not crazy, it's just a little sore.
"Breaking the scapula (in a previous accident) wasn't as bad. It's wearing the lady's underwear when they cut it off of you in the hospital, that's the bad thing (joking). Print that baby (laughs and grabs ribs). ... It don't hurt that bad, the way the seats are built, it's pretty evenly distributed in four places."
Labonte said it's more uncomfortable than painful. Labonte realizes that if he gets into an accident "it's going to hurt." But the bike wreck didn't stop him from getting back on his bike. He went for a ride last Saturday and logged 16 miles on a mountain bike on Wednesday.
"I didn't know what else to do," Labonte said. "I thought that was the right thing. You got to get back on the horse that threw you, right? That's what my grandpa always told me, because he always rode horses -- and he fell, so he got back on it."
Although Labonte has competed with JTGD for the last three seasons, the team announced on Aug. 24 that A.J. Allmendinger would replace the 49-year-old veteran next season.
Labonte said he currently has no plans lined up for 2014, "but all options are opened."
Labonte has not discounted the possibility of a career in TV, but added, "It wouldn't be my first choice."
Note: Allmendinger will return behind the wheel of the No. 47 Toyota next weekend at Dover. He's also scheduled to join the team at Kansas Speedway and the season finale at Miami-Homestead Speedway.
NUMBERS GAME
2 -- K&N Pro Series East wins for Cole Custer -- who was victorious in his first start at New Hampshire Motor Speedway on Saturday.
133.059 mph -- fastest lap posted by Dale Earnhardt Jr. in Happy Hour. Junior also had the best 10-lap average speed in the first practice on Saturday. Earnhardt lines up 17th for Sunday's race.
11 -- Different winners in the last 11 Sprint Cup races at New Hampshire. Seven of those winners were in the Chase.
SAY WHAT?
Despite NASCAR's new rules to enforce restarts, five-time Cup champ Jimmie Johnson still believes there's room for gamesmanship.
"The ace everyone had in their pocket was knowing the leader couldn't be beat," Johnson said. "Now, when the green is out, it doesn't matter. That does change it. There's change on both sides, for the leader and for second. I think it makes life easier for second. If the leader spins, you're not put in the position (to decide if the spin was questionable). 'Am I only six inches ahead? Is that going to be viewed all right by the tower?' It takes away a little from both sides, but I think in the end it's a better product and easier to officiate."