John Wall showed why he's the East's best point guard in a big Game 2 win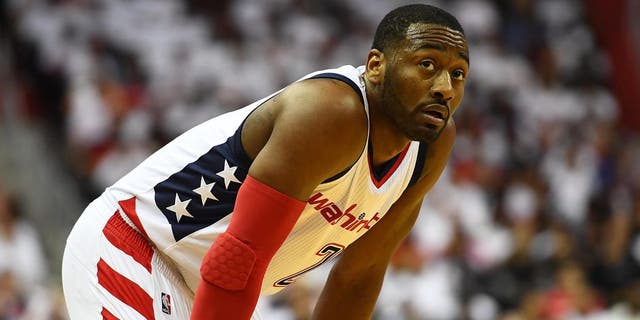 NEWYou can now listen to Fox News articles!
The modern NBA, with its ban on hand-checking and its infatuation with the pick-and-roll, is a point guard's league. For that, the Washington Wizards should be very grateful.
In leading the Wizards to a 2-0 first-round lead over the Atlanta Hawks on Tuesday, John Wall showed he's the best point guard in the East. And when he's playing like this, the conference might not have an answer for the Washington floor general.
Not to put too fine a point on it, but Wall is out here roasting the Hawks. His speed with or without the ball is unparalleled in the NBA, while his understanding of the pace of the gamehas caught up to his athletic ability over the past couple seasons.
That lethal balance was on full display late in the fourth quarter against Atlanta. Walltook over the game, crushing the Hawks' hopes just as it looked like Atlanta might steal a win in Washington. When the Hawks played off of him, Wall knocked down jumpers. When they crowded him, he found Bradley Beal for daggers.
Wall finished with 32 points (tying a playoff career high), five rebounds and nine assists. And no matter what Atlanta tried, coach Mike Budenholzer's team just couldn't keep up.
Yet you shouldn'tbe surprised that's been par for the course for teams trying to stop Wall this season.
Heaveraged 23.1 points on 45.1 percent shooting in 2016-17, the first time Wallaveraged more than 20 points in his career. As a scorer, he's not in the same ballpark as guys like Kyrie Irving or Isaiah Thomas, but those two can't touch Wall as a true point guard.
On top of his best scoring season, Wall also set a career high with10.7 assists per game. When you combine his scoring and assists, Wall produced more points per game than either Irving or Thomas this season all while boasting the best defense of the group by far.
That offensive versatility is particularly key in the playoffs, where teams go out of their way to take away your bread and butter. Predictability means catastrophe in a seven-game series, but an All-Star who can keep the defense guessing gives his team a chance on any given night, against any given opponent.
It's a skill Wall has in common with LeBron James and very few others. The only other point guard in Wall's class in the Eastern Conference is Kyle Lowry, but the 30-year-old can't hold a candle to Wall as either a scorer or passer.
So when you stack up the numbers and watch the games, the conclusion is clear: Wall not Irving, Thomas, or Lowry is the best point guard in the East.