Jazz seek Game 3 win at home vs Warriors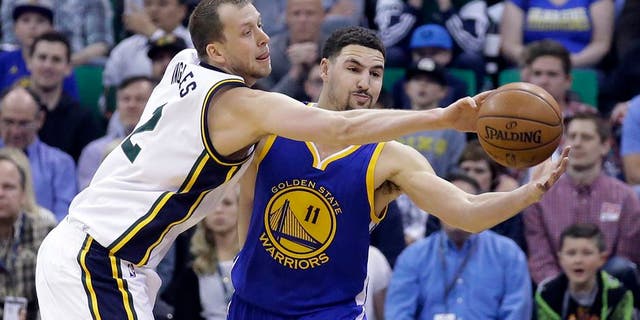 SALT LAKE CITY -- So far, the Golden State Warriors have lived up to expectations that they would be a postseason juggernaut.
The two-time defending Western Conference champions have not yet tasted defeat in the NBA playoffs. They also have not faced much of a challenge offensively or defensively in their first six games.
Golden State took a 2-0 lead over the Utah Jazz in their Western Conference semifinal series after leading wire-to-wire yet again in a 115-104 victory on Thursday night. Utah will try to get itself back into the series in Game 3 on Saturday in Salt Lake City.
The Warriors have displayed a knack for pouncing on Utah early and quickly digging a hole too deep for the Jazz to climb out of.
Utah endured slow first-quarter starts in Game 1 and Game 2. A second straight slow start on Thursday crippled efforts by the Jazz to rally. They fell behind 33-15 at the end of the first quarter and managed to cut the deficit to six in the fourth quarter before running out of gas.
The Warriors never lost the lead, but Utah forced them to sweat for a while late in the game.
"It wasn't easy," Warriors acting head coach Mike Brown said. "We felt it. We know we can play better. We broke down in a lot of areas where we should have been better. But in the same breath too, we did some nice things. We had 33 assists. We held them to five offensive rebounds. And at the end of the day we got the (win)."
Even while falling short, the Jazz feel they learned a formula for solving the first quarter jinx in Game 3.
Utah came out strong after halftime. The Jazz attacked the rim more frequently instead of settling for contested jumpers on each possession. They forced turnovers and turned a potential blowout into a tighter affair.
"After we got blitzed there in the first quarter -- once we settled in -- we kind of figured it out a little bit," forward Gordon Hayward said. "We figured out how to get into the paint and get some shots for ourselves and some better looks. Our spacing was a lot better. We're going to have to try to take that and move forward with it."
Hayward played the biggest role in bringing Utah back. He scored 33 points on 11-of-21 shooting after going 4 of 15 from the field in the series opener.
His contributions provided added value with starting point guard George Hill sidelined because of a sore toe. Hill is still day-to-day heading into Saturday.
"You're not going to have big windows," Jazz coach Quin Snyder said. "You got to take advantage of them. I thought he was more aggressive as the game went on, taking his shot and making quick decisions."
Golden State has excelled at playing efficient offense in both games against Utah. The Warriors dished out 33 assists on 42 field goals on Thursday after notching 32 assists on 40 baskets in the series opener. They have shot 49.1 percent from the field through two games.
Four different players are averaging in double figures for the Warriors in the series. Stephen Curry is leading the way with 22.5 points per game.
Defensively, Golden State has forced 14.5 turnovers per game and is averaging 22 points off of turnovers.
The only time the Warriors looked vulnerable on Thursday was when they got away from the formula that works well for them. Lapses on a few possessions on both ends of the court caused some tense moments, something Golden State wants to shore up heading into Game 3.
"We kind of lost our focus there a little bit," forward Draymond Green said. "We turned the ball over, had defensive breakdowns. Just didn't stay locked in. We got to do a better job of that, especially on the road. If you're able to get a lead, you got to try to put the game away."
Green tweaked his left knee in Game 2 and left for a short time before returning in the fourth quarter. He is listed as probable for Saturday.
Utah was 29-12 at home during the regular season but lost two of its three home games in the first-round playoff series against the Los Angeles Clippers.