Is this the year for Edwards to win?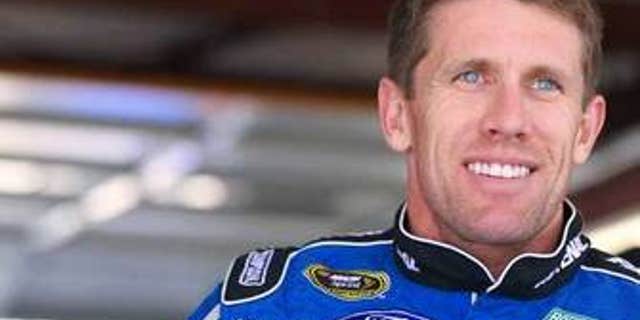 NEWYou can now listen to Fox News articles!
No one has ever come closer to a NASCAR Sprint Cup championship without winning it than Carl Edwards has, and now the veteran wants to rectify his near-miss.
Two years ago, Edwards and Tony Stewart both ended the season with 2,403 points, the only time in the sanctioning body's history that the top two drivers tied for the championship. But the title went to Stewart on the basis of a hard-to-argue-with tiebreaker: Stewart won five of the 10 races in the 2011 Chase for the Sprint Cup to none for Edwards.
Though he insisted afterwards that he wasn't shell-shocked by what happened, Edwards had the worst year of his Cup career in 2012, finishing 15th in points and missing the Chase for the first time since 2006.
All that is history now, though.
Edwards is coming off a huge victory at Richmond International Raceway on Saturday night, a victory that moved him to the top of the Cup points standings at the end of NASCAR's 26-race Cup regular season. His margin? A razor-thin one point over Jimmie Johnson.
Of course, after Richmond the points are reset for the Chase, and Edwards now has 2,006 points, nine fewer than leader Matt Kenseth, who had five regular-season race victories to two for Edwards.
Still, Edwards was surprised to knock off Johnson, who led by 77 points after the second Pocono race last month.
"We got done with the Richmond race and I told the guys on Monday that I looked up at the scoreboard and I didn't understand what the order was," said Edwards. "Someone told me that was the points. They said I won the points for the first 26 races. I thought that couldn't be true, that we were weren't that fast. It turns out we are."
At times this year, the Roush Fenway Racing squad has lacked speed relative to other top teams, especially Joe Gibbs Racing and Hendrick Motorsports, but that deficit has clearly closed in the last month. Team owner Jack Roush said after Richmond that his squad is on its third version of the new Generation-6 Ford Fusion and the hard work appears to be paying dividends.
"Our guys have really buckled down," said Edwards. " (General Manager) Robbie Reiser, all the guys building the cars, the last month or so has been very spectacular. I am excited about the Chase. I feel like we have a shot to go out here the first few races, win one or two of them and go win this thing."
Edwards got his weekend at Chicagoland Speedway off to a good start Friday, as he was third in the opening round of practice, his best lap of 187.578 miles per hour trailing only his teammate, Ricky Stenhouse and second-place Kurt Busch. And he qualified eighth, which is a solid starting spot for the GEICO 400.
The toughest competition in today's race for Edwards may well be the other Fords. Penske drivers Joey Logano and Brad Keselowski qualified 1-2, and Edwards' teammates Ricky Stenhouse Jr. and Greg Biffle qualified fifth and seventh, respectively.
But as problems go, Edwards will take it.