Hellas Verona approaching unwanted winless record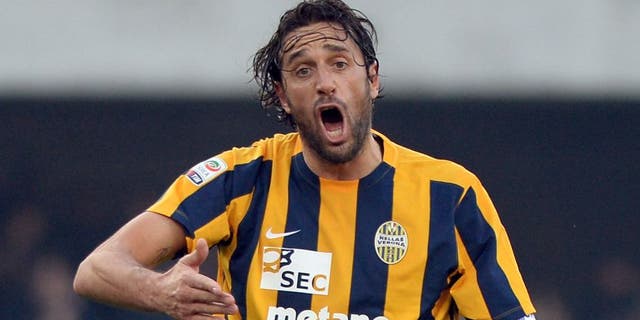 MILAN --
Hellas Verona is rapidly approaching a record it would rather not have.
The Serie A side has not won in its 21 matches this season and is the only team in Europe's main leagues without a victory. The longest winless run in the Italian top flight is 28, with Varese losing 17 matches and drawing another 11 in 1971-72 and Ancona losing 21 and drawing seven in 2003-04.
Verona has already beaten its own club record, back in November. Its worst negative streak before this year was 13 matches without a win in 1989-90.
But there are signs things are improving, with four draws in its past six matches, including at AC Milan and Roma.
Verona should also be boosted by the return of Italy 2006 World Cup winner Luca Toni from injury when it visits Torino on Sunday.
''Unfortunately we can't manage to win, and that's the worst thing,'' said Toni, who was last season's joint top goalscorer. ''We're having good performances, there are still many matches and now we have to try to win as many as possible, starting Sunday. Only the three points will do.''
Verona is 13 points from Sampdoria, which occupies the last position of safety.
Also Sunday it's the Milan derby where Inter Milan will be hoping to get back to winning ways to keep up the pressure on Serie A leader Napoli, which hosts Empoli.
Juventus is two points behind Napoli and seeking a 12th consecutive league win when it visits Chievo Verona.
Also this weekend it's: Bologna vs. Sampdoria; Genoa vs. Fiorentina; Udinese vs. Lazio; Carpi vs. Palermo; Atalanta vs. Sassuolo; and Roma vs. Frosinone.
It's been a fairly quiet transfer window.
Napoli made its first signing on Wednesday but it quickly turned sour.
Midfielder Alberto Grassi joined from Atalanta in a reported 10 million euro deal but, an hour after the move was announced, the Italy Under-21 international injured his knee in his first training session.
Grassi will undergo more tests on Thursday.
AC Milan has lost just one of its past eight matches to move up to sixth, eight points behind Inter Milan which has slipped off top spot after a defeat and two draws.
''It's not easy not to think about the table,'' Milan midfielder Andrea Bertolacci said. ''It's an important match, especially because it's a direct battle. We have to get closer to the area of the table which matters.''
Both sides were involved in the first leg of their Italian Cup semifinals this week, with (former Inter forward) Mario Balotelli converting a penalty in his first start after months out injured to help Milan to a 1-0 win at Alessandria.
Inter lost 3-0 at Juventus.
''We're finding it difficult to score,'' Inter coach Roberto Mancini said. ''There are moments in the season where everything goes badly, but we have to know how to react and to recover seeing as nothing has been decided in the league yet.''
Juventus cannot stop winning.
Wednesday's Italian Cup victory was its 14th in a row in domestic competition, a run which leaves it on the verge of a second successive final and right back in the title race.
Juventus would have been favorite for a fifth consecutive league title had it not been for its poor start.
''We must not rest on our laurels and think too much about the first half of the season,'' Juventus coach Massimiliano Allegri said. ''While we won nine in a row at the end, we earned too few points before that run. It will take real quality to win what is now effectively a 17-game championship.''