Hawks Will Have to Rebound Without Horford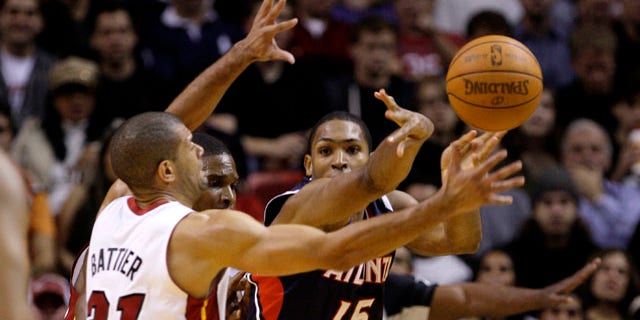 EAST RUTHERFORD, N.J. – The Atlanta Hawks have had something nice going on for a few years now, but their road to the playoffs just got tougher with All-Star center Al Horford expected to miss at least three months.
Horford tore his left pectoral muscle, the team said in a statement. He will require surgery but will seek a second opinion.
The Hawks have made the playoffs four straight years, but now face getting over the hump, reaching the Eastern Conference finals and, hopefully, the NBA Finals, without Horford --who head coach Larry Drew termed the team's leading voice out on the floor.
In their 44 years of existence in Atlanta, the Hawks have not yet advanced past the second round of the playoffs. Tied with the Chicago Bulls at two wins apiece in the Eastern Conference last May, the Bulls sent the Hawks into an early summer vacation, winning the series in six games.
Horford, who was averaging 12.4 and 7 assists over 11 games this season, had high hopes for the Hawks before injuring his shoulder in the first quarter of Wednesday night's loss at Indiana . Now he will have to cheer from the sideline.
"We learned a lot from that Chicago series. It will make us a better team," Horford told Fox News Latino earlier this week in New Jersey for their third meeting of the season against the Nets.
"They're a solid team," Horford said of Chicago while adding, "there's a reason why they had the best record last year and it's because they're a team that defends and rebounds and plays the same way every night."
Horford said that it should be Atlanta's goal to emulate the Bulls' consistent style of play.
"We want to reach that consistency every night."
Absent Horford's leadership on the court, veterans like Tracy McGrady, who has battled back spasms as of late, and Vladimir Radmanovic will be depended on even more. Veteran guard Kirk Hinrich should be back in a few weeks. Zaza Pachulia will mostly likely step into the starter's role at center. Jason Collins is also a capable replacement for Horford. But neither will equal what Horford brings to the table, production-wise, every night.
Joe Johnson and Josh Smith will have to step up their games. So will the team's young starting point guard, Jeff Teague, who has had his struggles early on.
Everybody Hates Mark Sánchez, But the Jets Are to Blame
Horford said that Smith's recent play has boosted the team's hopes.
"He's raised his level of play," he said. "He has helped us as a team come out with more energy."
Said Horford of Teague: "What we need to do is give him that confidence."
Hall of Famer Dominique Wilkins called Horford "that guy that does a lot of your [the Hawks] dirty work."

Now the Hawks will all have to, as a unit.
Adry Torres, who has covered MLB, NFL, NBA and NCAA basketball games and related events, is a regular contributor to Fox News Latino. He can be reached at elpiloto137@gmail.com or follow him on Twitter: @adrytorresnyc
Follow us on twitter.com/foxnewslatino
Like us at facebook.com/foxnewslatino