Glover Teixeira explains why he accepted a fight with unranked Jared Cannonier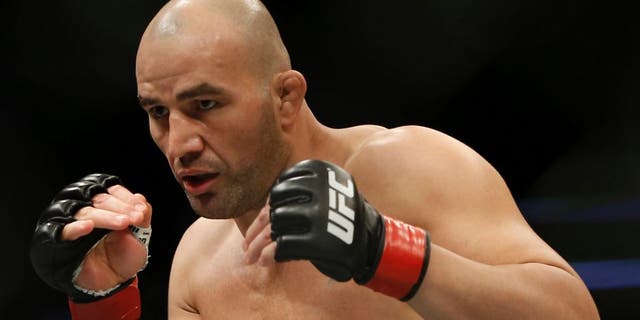 NEWYou can now listen to Fox News articles!
When Glover Teixeira makes his return at UFC 208 he won't be fighting another ranked opponent or even someone with a wealth of Octagon experience.
Instead, Teixeira faces relative newcomer Jared Cannonier, who just recently made his debut at 205 pounds while currently holding a 2-1 record in the UFC.
Needless to say, the matchmaking seemed odd for Teixeira, who was originally rumored to face fellow top 10 light heavyweight Jimi Manuwa but the UFC ultimately decided to offer him Cannonier instead.
Despite the fact that Cannonier isn't ranked and Teixeira probably doesn't move anywhere up the rankings with a win, he says this is the bout the UFC offered so his job is to step up and fight.
"To tell the truth, I didn't know who he was," Teixeira told FOX Sports when asked about Cannonier. "I saw his last fight and I saw it live when they said I was going to fight him. I thought it was good because this guy's strong.
"Once I was three fights into my career and I fought Quinton Jackson and for me that was a big opportunity. The way I think is this, you've just got to keep fighting and give these guys opportunities. Either I prove to myself that I'm a top contender or leave it to the other guys. That's the way the fight game works."
Teixeira also justifies the matchup because on paper he knows he should win the fight so why not go out and prove it?
It doesn't sit right with the former title contender that so many ranked fighters seemingly want to pick and choose their opponents rather than just face anybody that's put in front of them.
"I'm OK with fighting Jared no doubt. He's a tough guy, a tough opponent. First they got me Jimi Manuwa but for some reason I don't know what happened. They put him on another card and they offered me Jared so of course I'm going to accept it," Teixeira explained.
"I accepted the match. You've got to accept the challenge. He's a new guy, he's an up and coming guy and the thing is I don't mind fighting a guy that is coming up and give him the opportunity. The thing is I have to prove to myself. I've got to fight anyone. If I'm afraid, 'oh I'm not going to fight this guy because he's not ranked', I'm afraid to fight then. That's the way I think. (If) he's not top five so prove he doesn't belong there. I think Jared is a tough opponent and I respect him and I have to hold onto the third place (in the rankings)."
One thing the fight with Cannonier does offer Teixeira is a chance to wash the bad taste out of his mouth from the last time he stepped into the Octagon.
On that night at UFC 202, Teixeira suffered a brutal knockout courtesy of Anthony "Rumble" Johnson that also likely cost him a shot at light heavyweight champion Daniel Cormier. As much as he could understandably dwell on that moment, Teixeira would prefer to move forward and that's what fighting at UFC 208 on Saturday night will allow him to do.
"In a way you hold on because that's part of your life. You lose and you win," Teixeira said. "You've just got to train and focus on the fight ahead of your. Like forget about that one, it happens. I don't get too excited with the victory and I don't get too upset with the loss.
"It happens. That's the way it is. You just have to move onto the next one."