Giancarlo Stanton still day to day in journey back from wrist surgery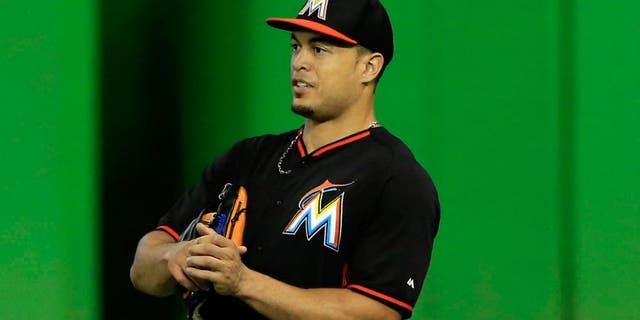 MIAMI -- Miami Marlins All-Star slugger Giancarlo Stanton remains day to day in his recovery from surgery on his left hamate fracture, according to manager Dan Jennings.
When speaking to media last week, Stanton said he hoped to return from the disabled list when the Marlins opened their homestand Friday against the division-leading New York Mets.
Instead, he didn't feel 100 percent in his first rehab assignment Tuesday with Single-A Jupiter, going 0 for 2 with a walk. He underwent the procedure on his wrist June 28 and has missed 58 games. The initial timetable called for 4-6 weeks.
Because the minor-league season comes to a close this weekend, Stanton will likely have to test the wrist with a pitching machine and simulated games. Jennings was unsure of whether Stanton had tried hitting since the rehab stint.
"It's a just a matter of when the wrist and the soreness goes out of the hand," Jennings said. "I think it's a plus that he went down to try the rehab start and test himself to see where he is. Now it's just how much time it will take before he can come back and be as close to 100 percent and the comfort level of his strength with his hand and his wrist."
At the time of the injury, the 25-year-old right fielder was batting .265 with an MLB-leading 27 homers and 67 RBI through 74 contests. Fans voted him into the All-Star Game for the first time, and he also earned NL Player of the Month for June.
"Anytime you don't have your best players on the field you're disappointed, but at the same time you don't want to run the risk of injury that prolongs either the offseason or him coming back next year," Jennings said. "I do know he wants to be back. He wants to be in the lineup, but at the same time you need him to be healthy where he can contribute. If he's not at that point then it's not value to him or us."
FERNANDEZ TO THROW SIMULATED GAME
Jennings said ace Jose Fernandez (right biceps strain) will throw a simulate game in the next couple of days. If all goes accordingly and he stays on track, Fernandez should return by mid-September.
You can follow Christina De Nicola on Twitter @CDeNicola13 or email her at cdenicola13@gmail.com.