Germaine de Randamie already fought a man so she's not scared of Holly Holm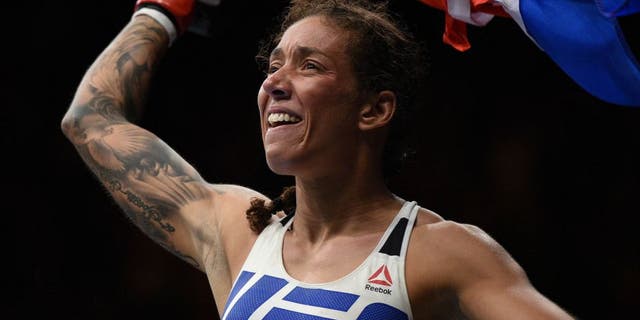 BROOKLYN -- On the eve of her first UFC title fight, Germaine de Randamie seems as calm, cool and collected as a competitor who has already been here many times before.
While this may be de Randamie's first shot at UFC gold, she's no stranger to high profile fights, including a storied career in Muay Thai kickboxing where she racked up an undefeated record as well as multiple titles.
This weekend, de Randamie will face Holly Holm for the inaugural UFC women's featherweight title and she knows the kind of credentials her opponent carries into the Octagon as well. Holm is a former boxing champion as well as UFC women's bantamweight champion after she became the first fighter to hand Ronda Rousey a loss when she viciously knocked out the former Olympian with a head kick in 2015.
Of course, de Randamie respects what Holm brings to the table but it's nothing that scares her -- after all she happily stepped into the ring to face a male opponent once upon a time in a pro boxing match.
"Every fight is the toughest fight of my career. I respect Holly. She's a tremendous athlete. For me it's such an honor, she's a great champion. I'm ready. I fought a man, I can fight Holly," de Randamie said.
The boxing match took place nearly a decade ago, but it's still one of the most memorable fights from de Randamie's career. She stepped into the ring that night out weighed by 40 pounds and still managed a vicious knockout.
"It was pro boxing. It is what it is. They offered me the fight and he had three pro fights. It was for TV, TV wanted to see that fight so I said let's do it," De Randamie recounted. "He hit me hard. First thing I thought when I hit him was damn let me keep my hands up. I knocked him out."
Clearly, de Randamie shows no fear when she steps into the cage and she's happy to trade punches with anybody willing to stand in the center of the Octagon against but she's not certain Holm will approach the fight that way.
Holm is a highly decorated boxer but de Randamie isn't sold that she's going to actually be willing to test her striking against one of the most lethal knockout artists in women's mixed martial arts.
"I don't expect her to stand and trade," De Randamie said about Holm. "I don't think that's her style of fighting. I hope she does. Look at all these amazing people, they want to see us bang it out in the middle of that cage so let's do it. Let's bang it out.
"I don't think she will do that but I do believe it's going to be an amazing fight."
Despite De Randamie's concerns that Holm may not want to strike with her, she's supremely confident that she can force the former champion to alter course with a strategy she picked up directly from Brooklyn legend Mike Tyson.
"Mike Tyson said it -- everybody has a plan," De Randamie said. "...until they get hit in the face."