From Mariners fan to player: O'Malley shines in M's debut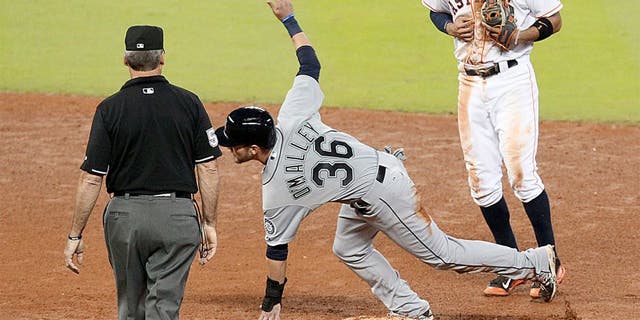 NEWYou can now listen to Fox News articles!
Seattle Mariners utility man Shawn O'Malley, recalled on September 1 when rosters expanded, grew up a huge Mariners fan...so his debut with the team on Wednesday night was something special for the 27-year-old.
Playing center field against the host Houston Astros, O'Malley picked up three hits and walked in his M's debut, and told MLB.com's Greg Johns later in the evening just how memorable of a day it was: "It was special," O'Malley said. "The first at-bat, I was a little nervous, but after I settled in, I felt pretty good. Luckily [Astros starter Scott Kazmir] threw me a changeup up that I saw well and could handle, and I pushed it to the right side and scored a run. That took some of the pressure off. I had a little anxiety at first, but after that, I realized it was just another game. Just see the ball and hit it."
This wasn't O'Malley's MLB debut, as he appeared in a few games for the Los Angeles Angels in September of 2014, but this was easily O'Malley's most productive night as a major-leaguer.
After toiling for eight years in the minors trying to earn a trip to the big leagues, O'Malley told Johns his family and friends are reveling in his new career as a Mariner: "They love it. They grew up huge Mariners fans. The fact they got to see me in a Mariners uniform starting a game was probably surreal to them. I'm glad I could make it somewhat special."
The concept of September roster expansion is met with criticism from some, but O'Malley's story wouldn't have been possible were it not for the stipulations of the September 1 call-up system.