Flyers place Zherdev on waivers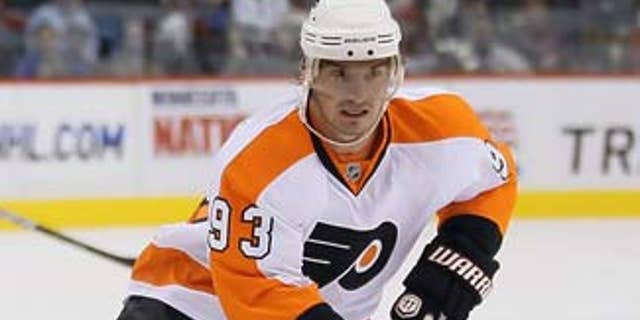 NEWYou can now listen to Fox News articles!
It was only seven months ago that Nikolay Zherdev told reporters via a Russian translator that he was thrilled to be making a return to the NHL with the Philadelphia Flyers.
On Wednesday, he appeared just as ecstatic to be leaving after Flyers General Manager Paul Holmgren placed the Russian-born right wing on waivers.
Following practice at the Flyers facility in Voorhees, N.J., Zherdev was seen by reporters strolling down the hallway and talking on his cell phone before hopping into a Lincoln Town Car that drove away from the complex.
Zherdev, who is sixth on the Flyers with 15 goals, has been a healthy scratch for six straight games and has not played since Feb. 10. He did practice with the team Wednesday before being waived.
"His agent and Nik, they're obviously not happy with the situation here," Holmgren said. "They'd asked us to look around for options. Nothing really came of that through trades, so we'll see what happens with this."
Flyers coach Peter Laviolette felt Zherdev, who signed a one-year deal with the Flyers on July 9, struggled to crack the top nine forwards on the team.
"I think at times for me it was just the level of play," Laviolette said. "It wasn't the skill thing, it was the level and the level that he played. There were other guys that were performing better. So there's only nine that can go in there -- the nine I felt were playing."
According to Holmgren, no teams have inquired about Zherdev, who could return to the KHL if he clears waivers. The Flyers could also assign him to the Adirondack Phantoms and, if he refuses to report, the club could suspend him and not have to pay him his $2 million salary.
"If he clears? We'll see. That's a topic for another day," Holmgren said. "It doesn't necessarily mean anything. The request came to me if we could see if we could get him to another team and we're following up on that."
The Columbus Blue Jackets made Zherdev the fourth pick of the 2003 Entry Draft. He had 27 goals and 54 points in 2005-06, his second season, and followed that with 26 goals and a career-best 61 points in 2007-08. After being traded to the New York Rangers that summer, he had a team-best 23 goals in his one season in New York. Following that season, an arbitrator awarded him a $3.9 million salary for 2009-10. The Rangers decided to pass, making Zherdev an unrestricted free agent. When no NHL teams made him good offers, he packed his bags to join Atlant Moscow of the KHL.
He had 13 goals and 39 points in 52 games with Atlant. He was second on the team with 26 assists, third in points, and led the squad with 79 penalty minutes. When the Flyers lost forward Simon Gagne in a trade with the Tampa Bay Lightning, Holmgren decided to take a chance on Zherdev.
"I don't pay much attention to the people who write about me about bad things or good things," Zherdev told the media in July. "Sometimes the media has different opinions about different players. Right now my goal is to come to Philadelphia and prepare for the long hockey season."
Obviously, Holmgren is upset it didn't work out.
"And I think for periods of time it was good -- he obviously has 15 goals in limited power-play time and limited minutes," Holmgren said. "But over the course of time, things have eroded. I think Nik's work ethic has probably dropped off and right now he's just not fitting in. So we'll see what happens. We'll know more (Thursday) at noon."
Follow Mike Morreale on Twitter at: @mike_morreale