Fla. Baseball Player Facing Rape Charges Falls Short of NCAA Record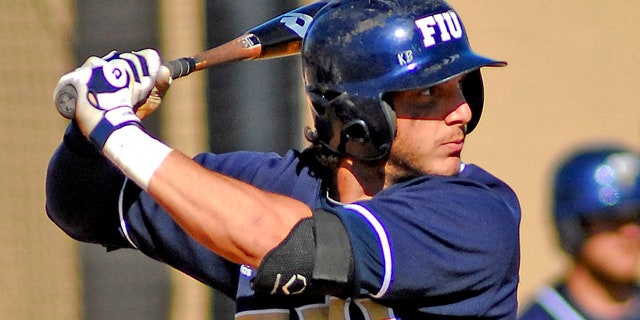 A Florida college baseball player facing rape charges related to an alleged attack last December in the Bahamas fell short of an all-time NCAA record Friday night.
Florida International University's star shortstop Garrett Wittels took the field against Southeast Louisiana University in the hope of breaking college and Major League star Robin Ventura's 58-game hitting streak record. He went 0 for 4, leaving him two games shy of matching Ventura's Division I 1987 mark and four short of the NCAA all-divisions record of 60 games by Damian Costantino of Division III Salve Regina from 2001-03.
The charges that overshadowed Wittels' attempt are that he and two friends allegedly participated in what Bahamian prosecutors describe as a night of alcohol and group sex at a Paradise Island hotel with two 17-year-old American girls, each of whom now claim they were raped.
While many big university sports programs have policies that call for immediate suspension of athletes just for being accused of a felony, FIU's student code of conduct isn't that clear.
It allows the school to make such decisions on a case-by-case basis, and in this case, FIU let Wittels play and pursue the hit streak record, citing the American legal tradition of "innocent until proven guilty."
"At FIU, we take accusations against any of our students seriously, and we follow our process," Rosa Jones, the school's vice president of student affairs, said. "We have a student code of conduct that is designed to provide our students with due process."
"Head Coat Turtle Thomas as well as the other coaches here at FIU have done a great job staying with me," Wittels said at a press conference earlier in the week. "Every single night I put my head on the pillow, and I know exactly what went on that night, and I have no trouble sleeping at all."
When asked by Fox News whether he could "set the record straight and tell us what did happen that night in the Bahamas," Wittels responded:
"I'm sorry, we've been advised not to talk about that."
Even the school newspaper, The Beacon, questioned the decision to allow Wittels to play, saying in an editorial that even if innocent, the player has "tarnished" the school's image, adding that the administration's decision is a "disservice to the entire baseball team."
Some wonder whether Wittel's star status is affording him special treatment.
"I think if he was a benchwarmer, he definitely would be suspended," said Linda Robertson, a writer with the Miami Herald. "But he's their star player, and this university is trying to become more prominent... and, he's their star."
Wittels first made headlines in 2010 for the streak that helped FIU win the Sun Belt Conference title and won him the league's player of the year award.
He appeared nervous on Friday night, however, swinging wildly at the first pitch he saw, missing badly and losing his balance.
Southeastern Louisiana won the game, 10-2.
Wittels and his two friends, Robert Rothschild and Jonathan Oberti, all are charged with one count of rape and are free on bonds of $10,000 each.
A preliminary hearing is set for April 18 in Nassau, Bahamas.
Fox News' Phil Keating and the Associated Press contributed to this report.