First practice results: Bojangles' Southern 500 at Darlington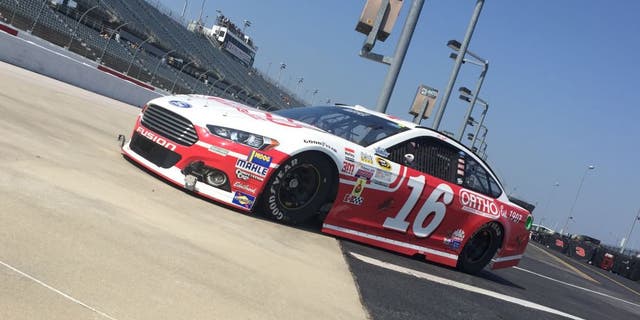 After a mostly disappointing season so far, Greg Biffle was the surprise leader in Friday's first of two rounds of practice for Sunday night's Bojangles' Southern 500 at Darlington Raceway.
Biffle went out early at the historic 1.33-mile South Carolina track and put up a lap of 176.189 miles per hour in his No. 16 Roush Fenway Racing Ford. Temperatures quickly rose, and Biffle's time held up for the remainder of the 1-hour, 55-minute session.
Behind Biffle came a trio of Stewart-Haas Racing Chevrolets, with Kurt Busch second ahead of Tony Stewart and defending race winner Kevin Harvick. Carl Edwards completed the top five in the first of the four Joe Gibbs Racing Toyotas.
To celebrate the return of Darlington's traditional Labor Day weekend date for the first time since 2003, a total of 32 race cars were decked out in throwback paint schemes dating back to the 1970s and '80s.
And this weekend, the NASCAR Sprint Cup Series teams are racing with the same low-downforce package used earlier this year at Kentucky Speedway, along with a new, softer Goodyear tire.
"I'm so happy NASCAR brought this lower-downforce, small-spoiler package," said Carl Edwards. "… The cars slide around a lot. It's fun."
Edwards, long a proponent of low downforce, said the cars are much tougher to drive with this package, which he views as a positive.
"It's a real challenge," Edwards said. "To me, that's what stock-car racing is all about."
The Southern 500 was first run in 1950 and for many years was the biggest race on the entire NASCAR schedule. And it's still a race drivers covet.
"We want to go out there and win," said Joey Logano, winner of two of the past three races this season. "It is the Southern 500. … We are going to put a lot of effort into this race. We aren't going to be cruising into the Chase. We want to try to go out and win this thing."
As expected, the track "Too Tough To Tame," bit a few drivers, with Austin Dillon and Chase Elliott among those banging the walls during the lengthy session.
See the full results from Friday's opening practice: