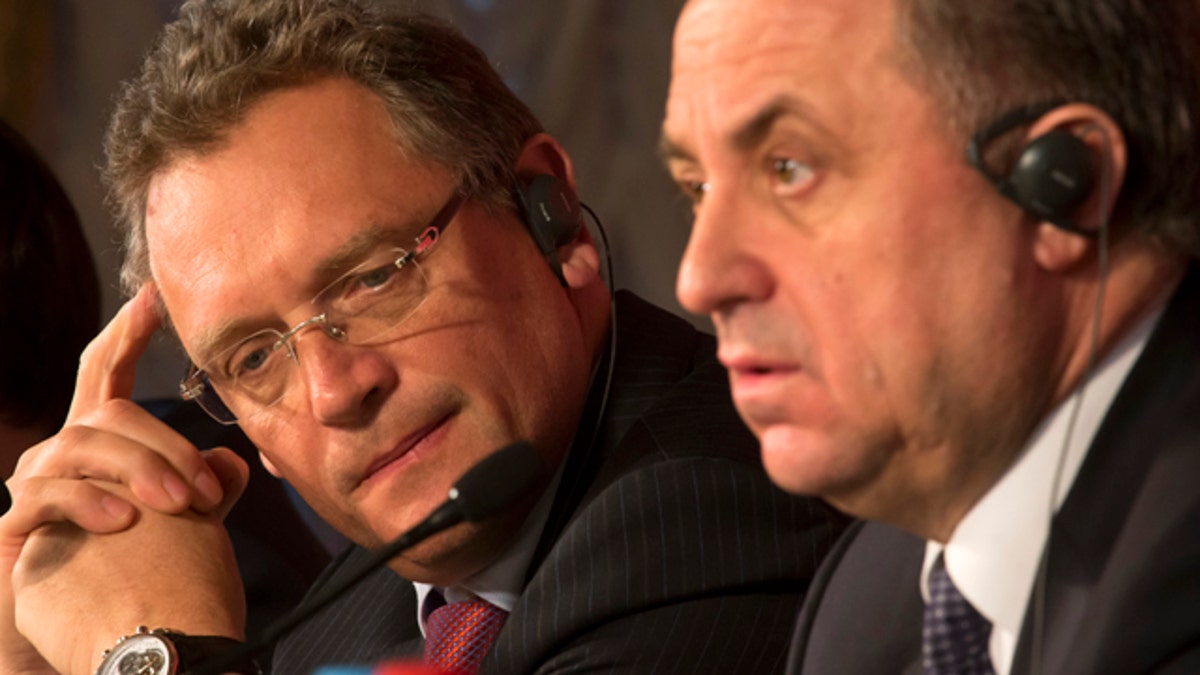 The corruption scandal that has shaken international soccer's governing body crept closer to the top of the organization Monday when it was reported that a top FIFA executive transferred $10 million to accounts controlled by the indicted former head of North America's soccer confederation in 2008.
The New York Times, citing U.S. officials and others briefed on the case, reported Monday that FIFA Secretary General Jerome Valcke sent the money to the accounts controlled by Jack Warner, then the president of CONCACAF.
Warner, of Trinidad and Tobago, is one of nine current and former FIFA officials who were indicted last week as part of a Justice Department investigation into corruption in international soccer. The Times reported that Valcke is described in the indictment as an unidentified "high-ranking FIFA official" who sent the money to Warner.
As part of his indictment, Warner is accused of accepting the $10 million as a bribe to vote for South Africa to host the 2010 World Cup. Valcke is not listed as an unidentified co-conspirator in the indictment, and the document does not make clear whether he knew the money was being used as a bribe. Danny Jordaan, the current head of South Africa's soccer federation who oversaw the country's bid to host the World Cup, has denied any wrongdoing and said the money was a contribution to a Caribbean soccer development fund.
FIFA released a statement Tuesday in response to the report saying that the $10 million payment was "to support the African diaspora in Caribbean countries as part of the World Cup legacy ... Neither [Valcke] nor any other member of FIFA's senior management were involved in the initiation, approval and implementation of the ... project." Earlier Monday, FIFA announced that Valcke had canceled a planned trip to Saturday's opening of the Women's World Cup in Canada "due to the current situation."
FIFA's statement also said the payment was authorized by its then-finance committee chairman, in accordance with its regulations. The chairman, Julio Grondona, died last year.
Valcke, a former French sports journalist, has worked at FIFA since 2003 and been its secretary-general since 2007. He is the second-most powerful official at the organization behind its president, Sepp Blatter, who was elected to a fifth term Friday.
Blatter has vowed to ride out the worst storm in his organization's 111-year history, but others inside FIFA have said they will depart unless changes are made.
FIFA medical chief Michel D'Hooghe, the longest-serving member on its executive committee, said he would leave unless there were rapid reforms.
"I cannot reconcile myself with an institution where I work, where I have carried the medical responsibility for 27 years and about which I now learn that there is a lot of corruption," D'Hooghe told the VRT television network in Belgium.
"My conclusion is very clear: I will no longer continue to participate (in FIFA) under such conditions. So, it is high time for change to come and we will see over the coming days what may happen. Let's be clear, if this atmosphere prevails at FIFA, I have no place there."
D'Hooghe has served on FIFA's ruling body since 1988, a decade before Blatter's move up from secretary general to president.
"If you are faced with an abscess, simple medication does not suffice," D'Hooghe said. "You have to cut it open."
FIFA on Monday provisionally banned another soccer official — CONCACAF General Secretary Enrique Sanz — as its ethics committee assesses evidence from the U.S. criminal investigation.
An unidentified co-conspirator listed in last week's indictment fit the description of Sanz' work history. Sanz, who has been battling leukemia, was placed on a leave of absence by CONCACAF on Thursday.
The Associated Press contributed to this report.