Fedor Emelianenko earns controversial decision over Fabio Maldonado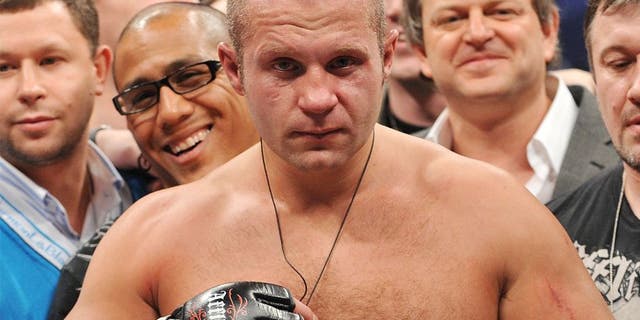 NEWYou can now listen to Fox News articles!
Fedor Emelianenko is still regarded as one of the greatest heavyweights of all time, but he certainly seemed to need the help of the judges to eke out a controversial majority decision over former UFC light heavyweight Fabio Maldonado on Friday in Russia.
The fight aired live on UFC Fight Pass as Emelianenko looked to cash in on his pending free agency after the bout with Maldonado was finished.
Rumors have been swirling for weeks that with a win, Emelianenko might finally land in the UFC after the two sides have negotiated for years, but never come to an agreement for the Russian to step foot in the Octagon.
Whether or not the UFC comes calling after this latest performance remains to be seen, but Emelianenko needed 15 minutes and a lot of heart to survive an onslaught from Maldonado in the first round.
Emelianenko came out of the gates swinging like he always does with a huge barrage of strikes, trying to overwhelm Maldonado before he even had a chance to warm up.
Emelianenko kept unloading bomb after bomb, but Maldonado did a good job keeping his hands up defensively until the two fighters separated back to the center of the cage.
It was there that Maldonado uncorked a combination that sent Emelianenko crashing towards the canvas with wobbly legs as the Brazilian pounced and furiously tried to finish the fight.
Maldonado pounded on Emelianenko for almost the entirety of the round after the knockdown, but the fight was never stopped and the Russian was allowed to continue into round two.
From there the fight turned into a sloppy affair with Emelianenko landing more shots against a clearly exhausted Maldonado. Still, Maldonado kept things close whenever he countered with a flurry of his own that kept Emelianenko from landing anything with fight-ending power.
The back and forth battle through the last 10 minutes came to an end with Emelianenko and Maldonado both covered in blood and sweat as they awaited the judges' scorecards.
In the end, two judges sided with Emelianenko by scores of 29-28 with a third judge returning a 28-28 draw, which means Maldonado earned a 10-8 for the first round. Maldonado's impressive first round seemed like enough for a 10-8 score, but only one judge agreed with that assessment and it cost him the fight.
It was an ugly fight in the end, but somehow Emelianenko still found a way to win.
After the fight was over, Emelianenko paid tribute to his team and trainers but made no mention of his next fighting home following this latest war. Emelianenko will enter free agency with several suitors likely lining up to retain his services, but whether or not the UFC will come calling is still a mystery.