Earnhardt Jr., Johnson among 11 who fail qualifying tech at Kansas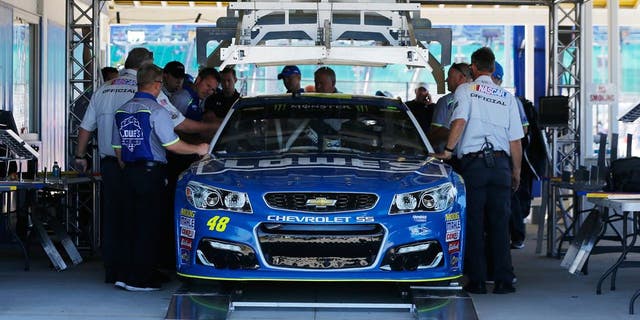 Several of NASCARs top drivers and teams had a bad time in getting their cars through tech inspection on Friday.
In pre-qualifying inspection for the Go Bowling 400 at Kansas Speedway, less than half of the 40 cars entered in the race had cleared inspection by the time qualifying began at 5:45 p.m. CT.
In fact, in the first 20-minute round of qualifying, no driver made a qualifying attempt until the session was near the halfway point. Ultimately, 11 cars never got to make a qualifying attempt at all.
Among the drivers who were unable to make qualifying attempts were Dale Earnhardt Jr., Jimmie Johnson, Kasey Kahne, Clint Bowyer and Erik Jones.
A lot of cars didnt get a chance to go out, said Johnson. A lot of cars had trouble. I dont know what lies in all of that, but Im not the best at qualifying anyway, so this takes all the pressure off of me.
Competitors are pushing the limit and theyre not making it and its disappointing to a lot of the competitors, Im sure that they werent able to qualify, said NASCAR Senior Vice President of Competition Scott Miller. But its disappointing to us that they arent presenting their cars in a way that theyre getting their cars through inspection. Kind of the worst of both worlds, actually.
This is just, wow. Super disappointing, said Kansas native Clint Bowyer. You are off ten-thousandths of an inch. It is ridiculous. Most people cant even understand how little that is. I get it. If you are off, you are off, but I watched my guys move the car and adjust the car accordingly for it and then actually overcompensate on it because we were worried about not making it. Then they wheel it back in and fail the exact same amount? Twice? That makes no sense. None.