Eagles coach reveals he planned to sit Carson Wentz 'the whole year'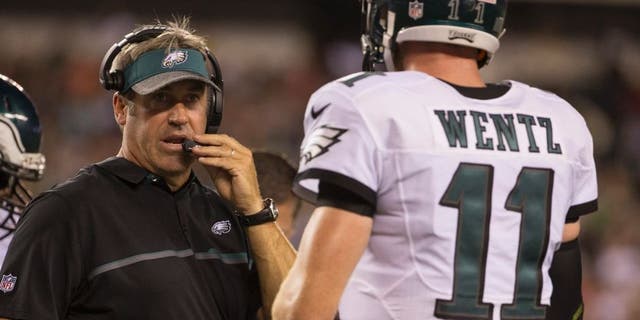 The Philadelphia Eagles made a massive jump in the 2016 draft to select their future quarterback in Carson Wentz. Yet, for as much as they gave up to get him, they still had Sam Bradford blocking his route to the top of the depth chart. Just before the season began, they shipped Bradford to Minnesota, opening the door for Wentz to start in Week 1.
But what was Philadelphia's plan for Wentz before the Bradford trade? Doug Pederson revealed just that on Wednesday.
"My plan was for him to sit the whole year," Pederson said via Chris Tomasson of the St. Paul Pioneer Press.
Wentz didn't appear ready for the big stage after he played in just part of the team's first preseason game, but it was clear the Eagles were prepared to roll the dice on him after they made the Bradford deal. Obviously, that was seemingly the right decision as Wentz has played great thus far.
He's completed 65 percent of his passes for 1,186 yards, seven touchdowns and just one interception with a passer rating of 99.9. Bradford has also had a great season in Minnesota as he has six touchdowns and zero interceptions in four starts.
Bradford will get the chance to strut his stuff against his former team this week when the Eagles and Vikings clash.
Pederson admits he was a little shocked that the trade was actually going through, given that he didn't believe it was a serious possibility.