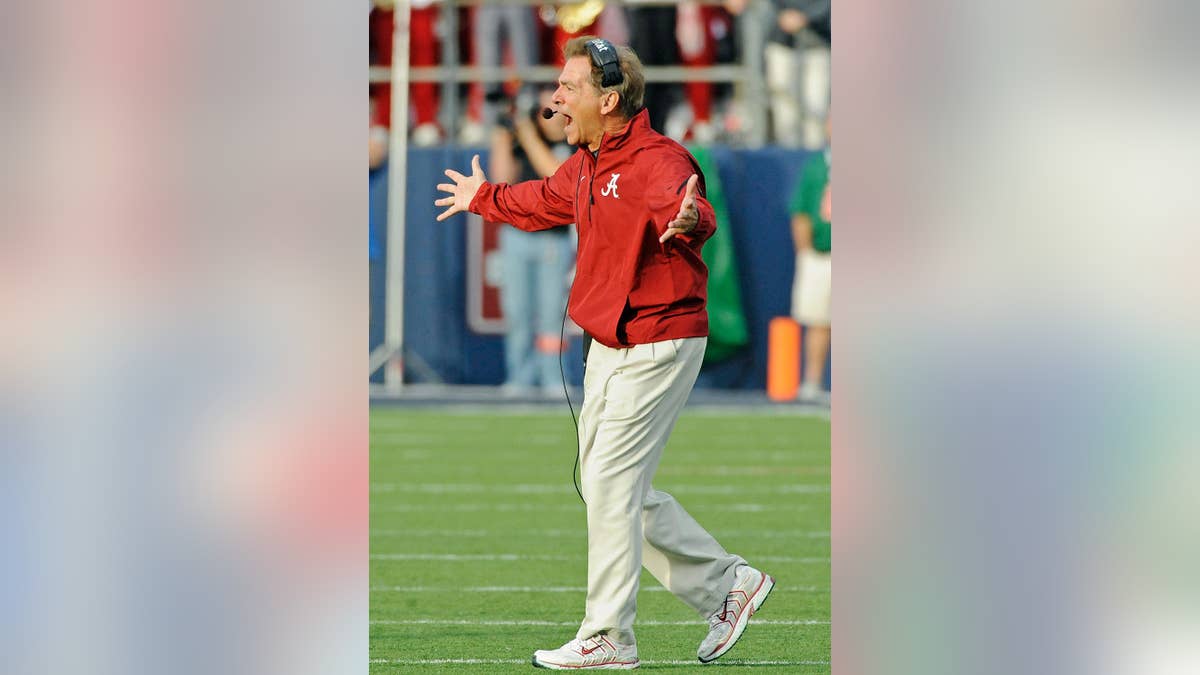 Breaking down the ballots for the AP Top 25 and wrapping up college football's sixth weekend.
___
Feeling blue Crimson Tide fan? Sulking about the Sooners? Far from ducky after Oregon's loss? Worried the Bruins have gone bust?
We're here to help.
After a wild weekend, some advice for the forlorn fan: Don't panic. There's plenty of time to recover and win over the hearts and minds of the College Football Playoff selection committee. Condoleezza Rice and the boys don't put out their first rankings until Oct. 28.
The Associated Press Top 25 will have to do for now, and that got turned upside down after Shake-up Saturday — which actually started Thursday night. It was that kind of week.
Only two teams maintained their spots from last week: No. 1 Florida State, which must have been having a pretty good chuckle as so many teams considered threats to the Seminoles' national championship crown went down, and No. 13 Georgia.
Five of the top eight teams in the rankings lost, a first since the poll went to 25 spots in 1989. A rundown of the damage:
— Oregon dropped 10 spots after losing 31-24 at home to Arizona on Thursday night.
— Alabama dropped four spots to No. 7 after losing 23-17 at Mississippi.
— Oklahoma dropped seven spots to No. 11 after losing 37-33 at TCU.
— Texas A&M dropped eight spots to No. 14 after losing 48-31 at Mississippi State.
— UCLA dropped 10 spots to No. 18 after losing 30-28 at home to Utah.
Misery loves company, and the Ducks now have plenty. When so many heavyweights hit the mat at once, it takes some of the sting out of those upsets. It's now more likely multiple teams that have lost will reach the four-team playoff.
"There are several teams around here who have lost games and responded the right way. And they went on to have pretty good seasons," Tide coach Nick Saban said.
Oregon, Alabama, Oklahoma and UCLA all began the season ranked in the top seven.
Let's leave A&M out of this for now and take a look a brief look at where those four stand and their chances of making a playoff run.
Oregon: The biggest problem for the Ducks is an offensive line that has been beset by injuries. It has left star quarterback Marcus Mariota exposed and the running game sputtering. The defense has been shaky, too, ranking 79th nationally in yards per play. Oregon might not be capable of separating from the rest of the Pac-12, a conference filled with dangerous and unpredictable teams.
Alabama: The Crimson Tide is tied for 104th on the country in turnover margin at minus-4, a startling stat for a Saban team. Turnovers can be fluky. Maybe that corrects itself. Maybe not. The good news for the Tide is if any SEC West team can be said to have an accommodating remaining schedule it's Alabama. The Tide gets Arkansas, Tennessee and LSU (combined seven losses) on the road and Texas A&M, Mississippi State and Auburn at home.
Oklahoma: It wouldn't be fair to lay all the blame for the Sooners' loss on Trevor Knight, but when the quarterback plays a wildly inconsistent game on the road against a good team, it's a recipe for an upset. Most of the Sooners other vital signs are good, including home games against Kansas State, Baylor and Oklahoma State.
UCLA: The Bruins don't block well and injuries aren't to blame, which makes their problems seem worse than the Ducks. It would also be nice if talented quarterback Brett Hundley would get rid of the ball more quickly or be given more plays where that is the directive.
The biggest loser of this weekend might have been the Pac-12. The conference seems most likely to be a cluttered mess, which could be a problem come playoff selection time. And what looked as if it would be one of the league's games of the year — Oregon at UCLA on Saturday — now has two teams coming off losses.
___
GOING UP
SEC football in the state of Mississippi has never been better.
The Rebels and Bulldogs — or the Bulldogs and Rebels, if you prefer — are tied for third in the Top 25. It's the first time they have been in the top-five together, and the best ranking for Mississippi State ever. The Bulldogs even received two first-place votes.
By sweeping a huge Magnolia State doubleheader Saturday, the teams set off a statewide celebration and guaranteed at least one more week in the spotlight.
The Bulldogs play No. 2 Auburn at home next Saturday and the Rebels travel to No. 14 Texas A&M.
"The reward in the SEC of winning a huge game is you get another one next week," Mississippi State coach Dan Mullen said Sunday while clicking is way through game film of Auburn.
In the Big 12, too. TCU moved up 16 spots to No. 9 and plays at No. 5 Baylor on Saturday.
___
IN AND OUT
Arizona went from unranked to No. 10, the largest jump into the poll since the rankings went to 25 spots in 1989. The previous best was No. 13 Iowa on Sept. 27, 2009. Coach Rich Rodriguez's Wildcats have their best ranking since 2010.
Two more Pac-12 teams moved in — No. 20 Arizona State and No. 24 Utah — along with unbeaten Georgia Tech, which made its season debut at No. 23.
Falling out after losses were USC, LSU, BYU and Wisconsin.
___
FROM THE ARCHIVES
Eleven ranked teams lost this weekend, matching the record set in October 2003.
___
Follow Ralph D. Russo at www.Twitter.com/ralphDrussoAP