Dolphins RB Lamar Miller doesn't mind increased workload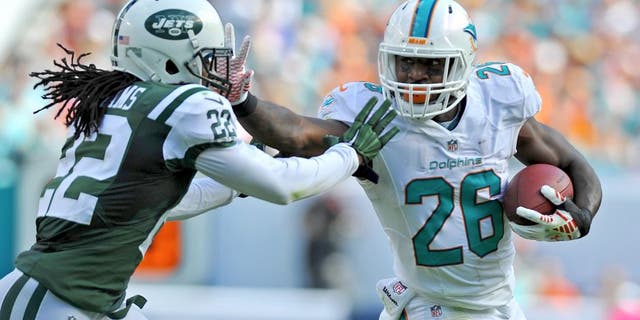 NEWYou can now listen to Fox News articles!
DAVIE, Fla. (AP) -- Miami Dolphins running back Lamar Miller won't mind an increased workload in the regular season.
Entering his fourth season and coming off a career-best 1,099 yards and eight touchdowns in 2014, he might be ready to ask for more carries.
"Yeah, I'm going to start doing that," Miller said of asking second-year offensive coordinator Bill Lazor for more carries.
"I'm a team guy, so whatever the coaches call, I just try to do my assignment. But if I feel like we can run the ball this year, I'm going to try to open up a little bit more."
Miller got 216 carries in 2014 -- nearly as many as his first two seasons combined (228).
Only the Ravens' Justin Forsett had a better yards per carry average (5.4) than Miller (5.1) among starting running backs, who tied the Bengals' Jeremy Hill for the second-highest rate.
"I built confidence for myself having the season I had last year," said Miller, who also caught 38 passes for 275 yards and a touchdown.
"Coming into this year, I feel more comfortable with the playbook, blocking schemes, the whole 9 yards. I just want to keep being productive, keep making plays for this team -- just be accountable. Have my teammates' trust in me to make plays."
The Dolphins haven't had a running back get more than 241 carries in a season since Ricky Williams had 392 in 2003.
Could Miller get 300 carries this season?
"I know we're running back by committee," said Miller, who's joined on the depth chart by Damien Williams, LaMichael James, Jay Ajayi and Mike Gillislee. "I don't know if we'd be able to get that many carries, but if we do, I'm willing to take on that challenge."
Dolphins coach Joe Philbin is open to anything that will keep his team's offense on the field.
"The ultimate objective is scoring points on offense, however we have to do that and whatever personnel we have to utilize." Philbin said. "If one person can help us do that and (it means) giving him (22) carries a game to get 350 carries, I have no problem doing that."
Miller is aiming to join Williams (2002-03) and Larry Csonka (1971-73) as the franchise's only players to rush for 1,000 yards in consecutive seasons.
He should start this season as the team's No. 1 back for the first time after sharing duties going back to his days at University of Miami.
"I have that same mindset as I had as a rookie," Miller said. "I just come here every day and try to get better, compete with the younger guys. I'm the veteran of the group now. I try to push everybody so when that guy gets that opportunity, he'll take advantage of it."
Lazor said Miller "done a great job of becoming a student of the game from the backfield."
Miller, who says he "tries to lead by example" has also become more vocal.
"When I first got here, the guy rarely talked to me," Lazor said. "He communicates so much better with me now."
"He knows what he's doing. He knows what issues we asked him to deal with from, and we've seen those things get better. The guy all year got more and more decisive in the way he ran the football. He played fast from the backfield. I expect nothing but it to keep going."