Dodgers shortstop Rollins set to return to Philadelphia for first time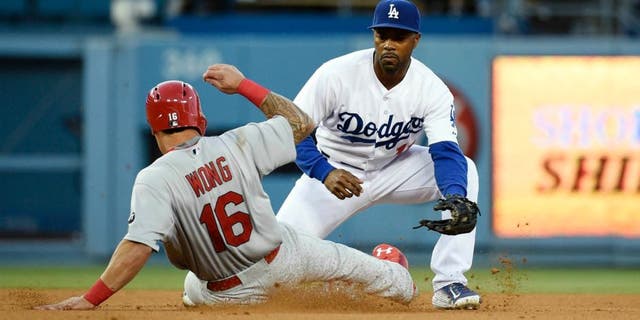 Shortstop Jimmy Rollins returns to the city where he played 15 seasons when the Los Angeles Dodgers open a three-game series at the Philadelphia Phillies on Tuesday night.
Rollins played a pivotal role in one of the best runs in franchise history for the Phillies - a stretch that included five consecutive NL East Division titles and a World Series championship in 2008.
Phillies first baseman Ryan Howard, who played alongside Rollins for 11 seasons, told NJ.com he expects the Citizens Bank Park faithful to pay tribute to the 2007 NL MVP.
"It will be cool to see what kind of reception he gets when he comes back," Howard said. "I expect it will be good, I expect there will be a lot of cheers. He's done a lot of positive things in this city and helped bring this city a championship."
The 36-year-old Rollins did square off against his former teammates last month in Los Angeles, going 5-for-15 in a four-game series, but this will be his first appearance in a different uniform before Philadelphia's fans - never known as the most hospitable bunch for the opposition.
"I think it will probably be maybe weird for him at first, but hopefully he comes here, gets cheered and I think he'll understand the appreciation the fans had for him," Howard said.
Acquired by the Dodgers in the offseason, Rollins left Philadelphia as the franchise's all-time leader in hits (2,306). Although he is batting only .216, Rollins has hit safely in four straight games for the Dodgers, who are coming off a three-game sweep of the Angels.
(h/t NJ.com)