Despain, Gordon, Miller & Varsha Mark Final Wind Tunnel Episode Next Sunday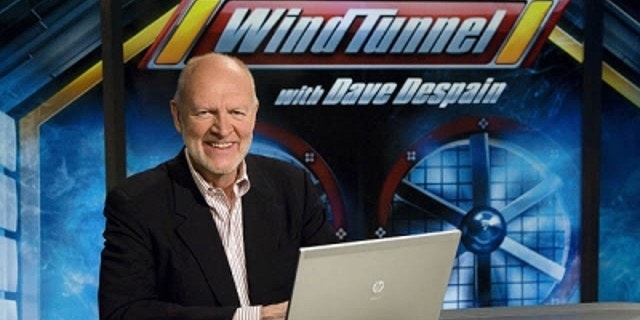 GORDON, MILLER & VARSHA JOIN DESPAIN AUG. 11 TO CELEBRATE FINAL WIND TUNNEL EPISODE
FINALE INCLUDES COMPILATION OF BEST 'EYE CANDY,' MOST MEMORABLE MOMENTS FROM SHOW'S 11-YEAR RUN
When legendary motor sports broadcaster Dave Despain signs off next Sunday live on SPEED at 8 p.m. ET, he marks the final episode of Wind Tunnel.
Wind Tunnel, a signature SPEED program for 11 years, celebrates its 594th and final episode Aug. 11 with familiar guests Robin Miller and Bob Varsha. Four-time NASCAR Sprint Cup Series champion Jeff Gordon, one of Despain's favorite guests over the years, will be the final interview. Additionally, a series-ending "Best of Eye Candy" segment is planned featuring the greatest racing shots from the show's tenure, plus lighter on and off-air moments over the years.
"Wind Tunnel has been a great experience," reflected Despain, who has covered motor sports for more than 40 years. "If bench racing for an hour every week passes for work, then give me more of that! Seriously, I'm very appreciative of the staff who worked so hard each week to make me look good, all the guests who have generously given us their time over the years and all the 'Tunnelheads' who tuned in and made it all possible. To each of you I say, 'Thanks. It's been great fun.'"
The program premiered Feb. 23, 2003, in a half-hour slot with first guest Chip Ganassi. Two weeks later, it expanded to an hour, and during the course of the next few years became regarded as one of the most candid hours in racing. Despain's unfettered honesty ruffled a few feathers along the way, but he always held the racing industry's collective esteem. Many contend Despain's vociferous personality has benefited viewers and race fans aplenty.
"Wind Tunnel has been the most relevant and popular show on auto racing for 11 years, and Dave has been the conscience," said Miller, veteran motor sports journalist. "If you mattered, you were on Wind Tunnel. It embraced all forms of motorsports and leaves a void that won't be filled."
Asked whether this marks the end of his broadcasting career, Despain uncharacteristically hedges his answer.
"I'm always open to fun projects," he said, "But one thing I know for sure is that I'll be spending a lot of time on my motorcycles!"
Two wheels have always been close to the native Iowan's heart. Despain is a "self-proclaimed failed motorcycle racer" who has enjoyed a long and prosperous career in motor sports broadcasting. He raced bikes at the amateur level for several years while employed at a small local radio station in Fairfield, Iowa.
"My TV career is essentially a product of dumb luck and a chance meeting in Atlanta, for which I am eternally grateful," Despain stated. "I went to Lakewood Speedway in Georgia to record interviews with the star riders and do play-by-play of the American Motorcyclist Association (AMA) National race there. I'm hustling around with my cheap little tape recorder, gathering my material, and caught the attention of J.R. Kelly, then-president of the AMA and a huge dirt track enthusiast. He hired me on the spot."
Despain remained at the AMA for 10 years but more importantly, his boss at the sanctioning body "bluffed," as Despain puts it, the top brass at ABC and Motor Racing Network (MRN) into giving him a shot on-air. While in Daytona, Fla., for Bike Week in the early 1970s, Despain made the transition from PR and radio guy to television journalist in most unexpected fashion. ABC's Wide World of Sports had acquired the rights to the prestigious Daytona 200 bike race at the 11th hour and was in need of an expert analyst.
"My boss conned the Wide World of Sports producer into giving me an audition for the job of expert analyst," Despain said. "ABC had no one to tell Keith Jackson what was really going on. The producer sent me to pit road with an ENG crew and told me to 'look into the camera and, in 45 seconds, tell America everything they need to know about this race.' I did, they hired me and my first TV job was standing next to Keith in our goofy gold blazers."
Despain soon went to MRN and worked closely with Ken Squier, who also was hosting motor sports programs for CBS and covered AMA Supercross races for the network in the late '70s. In 1980, Squier startedMotorweek Illustrated on TBS and tabbed Despain as its host. The ensuing years saw Despain cover NASCAR and motorcycle racing for various networks and he developed a big following in the dirt open wheel world by hosting Thursday Night Thunder on ESPN. He joined then-Speedvision in 1999 as host of weekly programs Bike Week and Motorcyclist, and progressed to the anchor chair on Wind Tunnel and other programs.
Those four-plus decades of broadcasting have rubbed off on Despain's production staff, as well.
"Working with Despain all these years has been the best education of my life," said Wind Tunnel producer Andy Parsons, who has worked with the host since 1996. "He is by far the smartest, most creative and most objective person I have ever met. He not only made me a better television producer, but he also made me a better person."
Hosting Wind Tunnel has further defined Despain's career as much as he has defined the show.
When asked about his legacy, he responded, "I'm the worst person to judge whether I have a legacy or whether it amounts to anything. That was never the goal going in and if it's been a happy consequence, then good for me. To borrow from Darrell Waltrip, I'm just happy to have a legacy."
While he may not be in your living room every Sunday evening, continue to look for Despain on the road each weekend. He'll likely be on his motorcycle and likely headed cross-country.