Dale Jr.'s reaction to winning 2000 All-Star Race: 'Can you believe it?'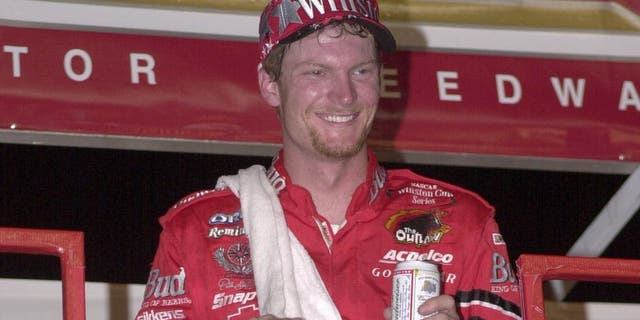 CONCORD, N.C. -- Dale Earnhardt Jr. says he had no illusions about winning NASCARs All-Star Race when he lined up as a Cup Series rookie for the event in 2000.
But when his inaugural run in the event was over, Earnhardt Jr. was standing in Victory Lane next to his famous father. And this time, it was the son celebrating the big win.
I remember standing with Dad in Victory Lane, standing up there and taking pictures with him, Earnhardt Jr. said Thursday when he unveiled the special paint scheme for his final All-Star Race this Saturday night at Charlotte Motor Speedway. And I was going, Man, can you believe this? I cant believe this.
And hed been to Victory Lane so many damn times, he was just standing there smiling, letting everybody take their pictures. I was like, I cant believe this! Answer me!
Dale Jr. earned his spot into that 2000 All-Star Race by winning earlier in the season at Texas. Then he won again at Richmond before the big night arrived at Charlotte.
Still, he said he did not feel that confident about his chances of winning the All-Star Race. He did admit it may have been another matter with his uncle and crew chief at the time, Tony Eury Sr., and his cousin, Tony Eury Jr., who was his car chief.
Tony Sr. and Tony Jr. probably were always thinking about winning it, said Earnhardt Jr., who earlier this year announced his retirement from the Cup Series at the end of this season. They just had so much confidence and arrogance and cockiness about it. They werent happy unless you were at the top of the board in every practice.
And I mean, Tony Sr. would get hot. If you didnt run in the top 10, it was a bad day. We were young. They might have thought that was just the beginning of something awesome. But our year fell apart after about halfway. We struggled the whole back half of that season.
But the night of their first All-Star Race together, they were already feeling like they were on top of the racing world.
We were feeling pretty good about ourselves, Junior admitted. We won at Texas and at Richmond, and then we came here. I personally just felt real lucky to be in the race. I wasnt like, Man, what do we got to do to win? I was more like, Wow. I cant believe Im in it. I couldnt get over that to be thinking about anything else like winning.
When the green flag fell, though, Earnhardt Jr. was right in the mix.
I remember hitting the wall and then the car getting a little faster after that, he said. I remember passing Dad in the last stage, and I remember running down Jarrett and him smoking a little bit and passing him between (Turns 3 and 4). Our car flew through the middle of the corners in 3 and 4.
They flew all the way to Victory Lane, where Dad joined in the celebration.
Earnhardt Jr. has since run in 16 more All-Star Races without reaching Victory Lane again.