CUP: The Young And The Wreckless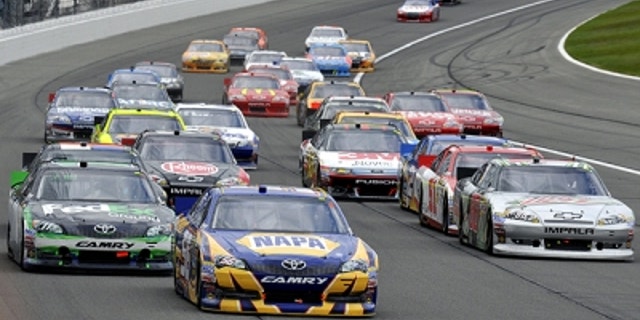 Does anybody here wreck any more?
Sprint Cup drivers have raced two complete races on two fast 1.5-mile tracks over the past two weeks, and there have been no crashes. There were only two caution flags for 10 laps at Texas Motor Speedway two weeks ago and only three for 18 laps Sunday at Kansas.
The two Texas cautions were for debris on the track, as were two of the three at Kansas. The other Kansas caution flew when Clint Bowyer spun out early in the race.
Are these drivers, as we often hear, really the 43 best in the world?
Maybe yes. Maybe no.
Either way, the lack of mayhem in recent races is remarkable. Last year, the same two races produced a total of 10 caution periods.
It might be argued that the Texas and Kansas races saw no mangled cars simply because the drivers generally weren't near each other long enough to run into each other. Both races were relatively strung-out affairs (Texas being the more obvious, onerous and odious example) featuring only sporadic activity at the front.
Martin Truex Jr. led 64 percent of the laps at Kansas, only to finish second to Denny Hamlin's late surge. Only three drivers led more than seven laps in Sunday's race.
At Texas, Jimmie Johnson led 46 percent of the race, although he lost to Greg Biffle, who led 90 laps himself. Only three drivers led more than 15 laps at Texas.
This hasn't exactly been Competition Cavalcade lately.
Particularly on the 1.5-mile tracks, cars of similar quality and speed seem to be bogged down by aerodynamic issues when they race in close proximity.
"Once you get back in 13th, 14th or 15th, it's just so hard to gain track position with how aero-sensitive these cars are today," Brad Keselowski said after Sunday's race.
It's pretty standard thinking that cautions breed cautions, in large part because the field is restacked, cars are closer together (at least for a few laps) and bumpups are more of a possibility. The last two races haven't presented many such opportunities.
"I just think that the way the races have been running [it] worked out that is just the stats right now," Jeff Gordon said. "There are races we've gone to where it's been slick. Like last weekend [at Texas] the wind was blowing so strong and blowing the cars around. I was surprised you didn't see more cautions last weekend.
"Then you go back to the cautions breed cautions. All it takes is a few late cautions and you are going to see [even] more cautions."
It's unlikely that the next race on the schedule – at Richmond International Raceway's .75-mile course – will continue the trend.
Mike Hembree is NASCAR Editor for SPEED.com and has been covering motorsports for 30 years. He is a six-time winner of the National Motorsports Press Association Writer of the Year Award.