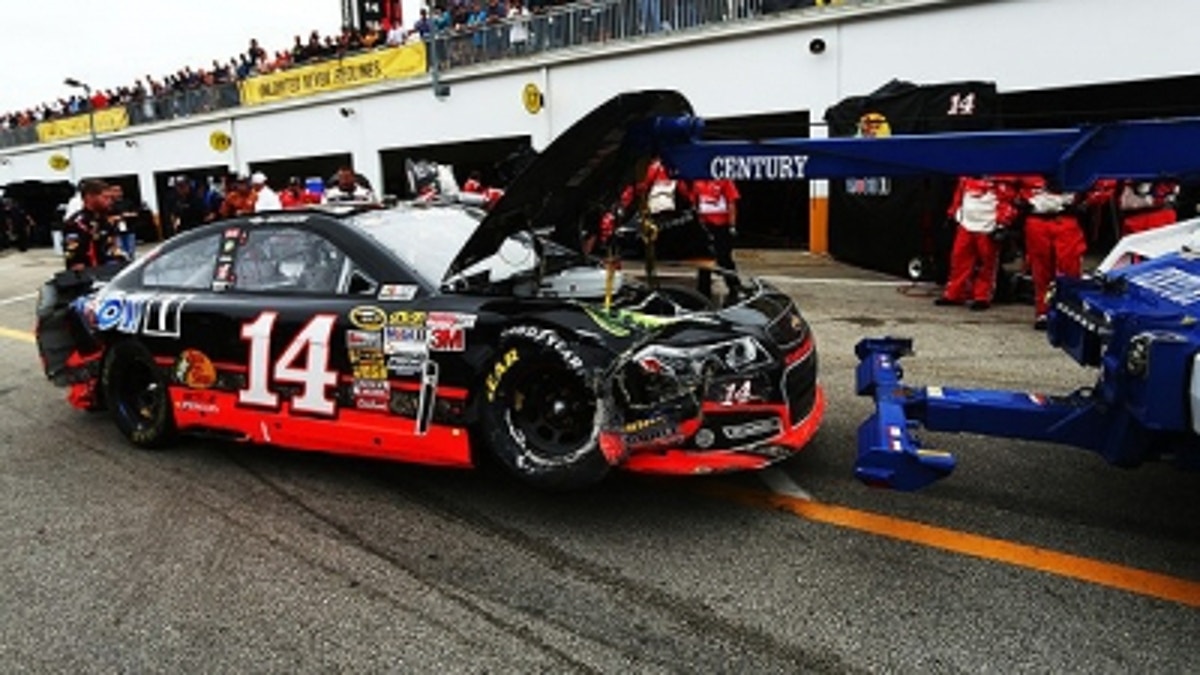 Misery had a name Sunday at Bristol Motor Speedway, and it was Tony Stewart.
Stewart slammed into the first-turn wall only 10 laps into a race in which he was expected to be a contender. After repairs, he was able to continue in the race, but only as an also-ran.
With its tight racing grooves, Bristol is one of the worst tracks on the circuit for a driver who is running laps down and simply trying to finish the race to earn as many points as possible, and Stewart was in that unenviable position Sunday.
The result, after a long day, was a 31st-place finish, 36 laps down. Consequently, Stewart fell six places in points to 24th and needs a strong run this weekend at Auto Club Speedway to reassert himself in the point race.
Stewart won last year's rain-shortened race at Fontana and has a competitive record in recent seasons at the track, scoring top-10 runs in seven of the past nine races.
The ACS surface allows drivers to race in multiple lanes.
"It's nice knowing that as a driver you can help yourself out and you're not relying so much on the car," Stewart said. "Regardless of what everyone else is doing, you can find a way to help yourself out. It makes you feel good knowing that because the place is so wide, you can move around, and basically, earn your money that day.
"As far as when to start trying the different grooves, really from the drop of the green flag you do it from there on out because what works for one part of the race may not work at another point. Basically, it's as soon as you feel like you're not where you need to be. If you feel like you're slower than the pace you need to be running, you're going to move up the race track and find a place that helps balance your race car."
Although Stewart is still looking for his first top-five run in the new Gen-6 car, he said he's satisfied with the new model. He was an early critic of the Car of Tomorrow.
"It still boils down to the fact that it's a race car, and I think there's way too much pressure as far as expectations of what it's supposed to be," he said. "Nobody has told me where it's actually supposed to be. It's a car, and this is a car that doesn't come with an instruction manual. It's a constant work in progress.
"We're all going to get smarter about the cars. As drivers, we're going to learn things about what we can and can't do and what scenarios to put ourselves in. Now that NASCAR has given us the rules, what the templates are going to be, Goodyear can now go and make adjustments. Everyone is going to do their part, but I think what's been understated is how good this car has been right out of the box. It's a nice car. It's a well-balanced car.
"It may not be exactly where everyone thinks it's supposed to be. Apparently, there are people that are not content with where it's at, but for the few races we've had, I think it's been an overwhelming success. Coming out of the box, a new race car doesn't normally happen this flawlessly."
Mike Hembree is NASCAR Editor for SPEED.com and has been covering motorsports for 31 years. He is a six-time winner of the National Motorsports Press Association Writer of the Year Award.