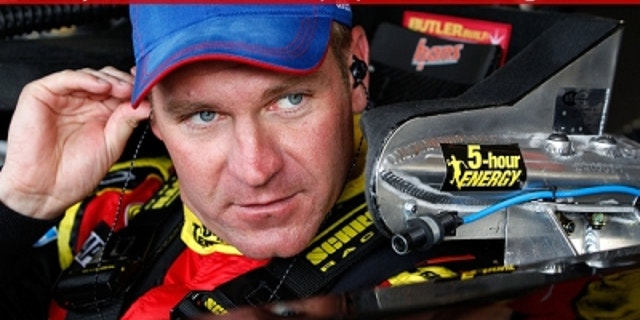 It was quite understandable that Clint Bowyer was a bit perturbed after the finish of Sunday's Sprint Cup race at Martinsville, VA.
He made one of the biggest moves of the season on the next-to-last green-white-checkered run of the race, firing into the inside lane and going three-abreast with Jimmie Johnson and Jeff Gordon in a bold attempt to take the lead.
Instead, calamity ensued. Bowyer and Johnson spun out, the caution was unfurled again, and Ryan Newman won the race. Bowyer, who could have assumed he would have nothing worse than a top five, instead finished 10th.
Bowyer said if he had not tried to make the day's audacious move, someone else would. A pack of cars was following Johnson and Gordon, who did not pit for tires.
"You got tires, they don't and they spin the tires (and) the 39 (Newman) hits you in the rear," Bowyer said. "I mean, if I didn't go down there, the 39 was, and we'd just all run out of real estate, and that's the nature of the beast at this place."
Bowyer said either Johnson or Gordon should have won the race and he should have finished fourth, but the tenor of the race was changed near the end of regulation when David Reutimann's car stalled near turn one, forcing a caution. That upset Bowyer, among others.
The good news for Bowyer, however, is that his season is off to a vibrant start. He's ninth in points and has finished in the top 10 in half of the six races. It's the sort of early season few expected from the new team, and Bowyer has shown that his off-season choice to move from Richard Childress Racing to Michael Waltrip Racing, a decision criticized by some, apparently was a good one.
MWR has two drivers – Martin Truex Jr. is tied for third – in the top nine in the point standings and put all three of its drivers (Brian Vickers also was on board) in the top five at Bristol.
Bowyer started his off week by traveling to New Orleans with team owner Michael Waltrip to watch Kansas (Bowyer's choice) lose to Kentucky (Waltrip's favorite).
Much of the rest of Bowyer's week will be spent relocating his dirt-track racing team.
"We'll be moving into my new dirt shop and my office," Bowyer said. "I finally have an office myself, so I'm looking forward to having my own office. I don't have to share with anybody. When I lock the door, I know where stuff is because that's where I left it last. Somebody else didn't pick it up and walk away with it, which usually happened before.
"Really proud of my dirt guys – they have been running so well. They won another race in the Lucas Oil Late Model Series. Jared Landers won and Jonathon Davenport has been running good in the other car. So much new with me, my life and my career – even our dirt program. It's been a fun year."
Even with some calamity at Martinsville.
Mike Hembree is NASCAR Editor for SPEED.com and has been covering motorsports for 30 years. He is a six-time winner of the National Motorsports Press Association Writer of the Year Award.