CUP: MWR Showing Early Strength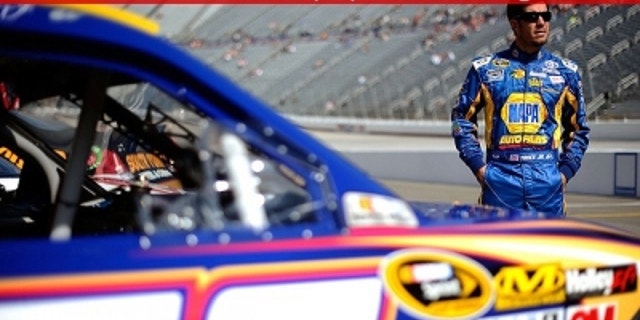 NEWYou can now listen to Fox News articles!
Among the surprises in what has been a surprising Sprint Cup seasonal start is Michael Waltrip Racing.
Few would have guessed that MWR's two full-time drivers – Martin Truex Jr. and Clint Bowyer – would be in the Sprint Cup top eight four races into the year. Fewer still would have predicted that MWR part-timer Mark Martin would be 16th in the standings after having run only three of the first four races. That's right, Martin is ahead of 20 drivers who have run four races.
It's early, of course, and things could trend in the other direction, but to date MWR has shown that Joe Gibbs Racing isn't the only potent Toyota team in the sport.
A big slice of the credit goes to Scott Miller, who joined the team last year as executive vice president of competition, bringing his talents over from Richard Childress Racing.
"Michael and Rob (Kauffman, co-owners) really took a step back as an organization, bringing in Scott Miller toward the end of last year," Truex said. "Really kind of restructuring how we did things. We started building some new cars."
The goal was to start 2012 with a bang, and it seems to be working.
"TRD (Toyota Racing Development) was giving us a lot of input," Truex said. "Toyota had a lot of influence on the direction we headed. Once we started bringing the new cars out, it's just been a constant evolution throughout the middle of last year, and toward the end of the year we started having good runs, having consistency. I think for our team a big part of that was Chad (Johnston) coming in as my crew chief through the middle part of last year. In the offseason, we continued to build on that."
The potential force of the new arrangement was illustrated at Bristol last Sunday as Truex finished third, Bowyer fourth and Brian Vickers (driving the No. 55 usually piloted by Martin) fifth, completing an unusual team top-five sweep at the tough half-mile.
"We just have a good organization right now, a good bunch of people," Truex said. "We have three cars that seem to go to the race track and run really well each week. We're able to feed off each other. We really showed that in Bristol, all running up front at different parts of the day.
"I've never been associated with a team who works so well together. I believe that is one of the major reasons why we were able to finish like we did last weekend. We share information and are not afraid to help each other along in producing good race setups. At Bristol, we pretty much raced close to identical setups. When you have that kind of trust in each other, I believe that helps make all three teams run well.
"Granted, there will be times when we have different stuff, but what I have seen coming out of MWR this season is a real commitment to each other to be the best we can be as an organization. It's working, and I am having so much fun going to the track and working with these guys. At the end of the day, if we can keep the commitment and trust going with each other, we are going to be one of the powerhouse teams out there."
Mike Hembree is NASCAR Editor for SPEED.com and has been covering motorsports for 30 years. He is a six-time winner of the National Motorsports Press Association Writer of the Year Award.