CUP: Logano Taking On Leadership Role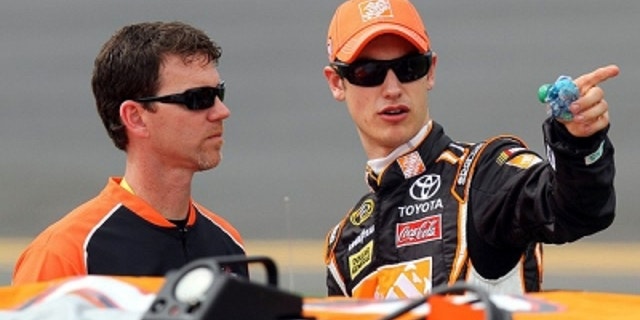 Joey Logano has enjoyed fast cars in the first two Sprint Cup races of 2012, a difference from the end of 2011 at Joe Gibbs Racing.
Whether he continues to run well – he has finishes of ninth and 10th in the first two races and sits eighth in the standings – might depend on how he feels about himself and his team, along with how they feel about him.
Under veteran crew chief Greg Zipadelli last year, Logano could feel the speed of the cars slip away, but just as important, he could feel his team's confidence in him diminishing.
Now with rookie crew chief Jason Ratcliff as well as the help of noted sports psychologist Bob Rotella, the 21-year-old Logano has taken over more of a leadership role on his team.
Instead of looking at a crew chief who had won two Cup titles (Zipadelli) for answers, the team will look to Logano.
"When you have to lead a team, especially at a young age, all the guys working on the car are older than you, it's really hard to earn that respect," Logano said Tuesday. "Especially when times are not as good, like last year, earning the guys' respect is very hard. You need to be able to do that one way or another.
"Learning how to be a leader was something I didn't know I was going to have to learn but was a huge deal and hard."
Logano, currently in the last year of his contract at JGR, said he can "just kind of feel the difference" in himself and the team.
"My attitude's different," Logano said. "I feel like I walk around with a lot more confidence in myself. That carries through the whole team.
"As soon as the driver is real confident … It goes vice versa, too. When someone loses confidence, it's contagious. Keeping that upbeat mood going is going to be huge."
That should come easier with Ratcliff. While the fiery Zipadelli worked well with the equally fiery Tony Stewart as they won two Cup titles at JGR, the pairing of Zipadelli and Logano didn't do much for Logano's confidence. Logano also changed spotters, with former David Ragan spotter Rocky Ryan now his eyes in the sky.
The change in attitude has at least shown potential to make a difference.
"[Jason] is a glass-is-half-full guy – I think that's very important," Logano said. "It's good to have. I've got a new spotter this year, too. He's very positive, keeping our heads in the game during the game throughout what happens.
"Now, granted, we're only two races into this deal. But we need to stay focused and keep our eye on the prize like we've been doing."
Even the prize has changed for Logano. He said he used to shoot for top-10 finishes; now his goal is to win.
That might seem strange for a driver with one win in 113 career starts and career finishes of 20th, 16th and 24th in the standings, but it's the focus a driver must have, Logano said.
"You have to show up at the race track with the right mindset, knowing you can go out there to win the race, not going out there to finish in the top 10," Logano said. "When you start showing up and your goal is to finish in the top 10, the best you're ever going to finish is 10th.
"You need to focus in on winning this whole gig and shoot for a winner."
Logano's new-found attitude might not pay total dividends until he goes through a stretch where he doesn't perform well.
"Tying to … stay confident in yourself when things aren't going well, that's very, very, very hard," Logano said. "It's something I didn't know how to do. It was something I wasn't used to. How do you pull out of this hole?"
SceneDaily.com • Greg Biffle thrilled with crew chief, fast start