CUP: Kyle Busch Hoping For Some Good Luck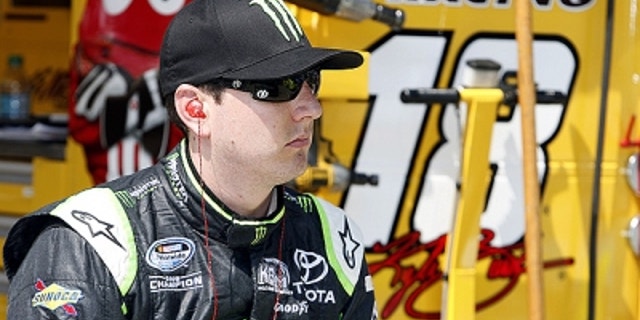 With Kyle Busch's recent string of bad luck, it could take a divine intervention to turn around his season.
While Busch hasn't discussed quality control with the principals at Joe Gibbs Racing, he has asked Gibbs what he must "do to get better luck".
"How much more I've got to pray or whatever else, but it just doesn't seem to work no matter what we've done," Busch said.
"We've been really fast -- we've had fast race cars, which I've been excited about. Dave (Rogers, crew chief) and the guys have done a really nice job of putting together some good stuff. It's just stupid things keep happening. "
Busch is currently 14th in the point standings, 58 points outside of the Chase Zone. His sole win of the season came at Richmond, which will host the Federated Auto Parts 400 in two weeks. Although Busch has won at the three remaining races before the Chase for the Sprint Cup, he feels that Richmond and Bristol provide him the two best opportunities.
However, after the first practice at Bristol, Busch was looking for more out of the car.
Busch, a four-time winner at Bristol Motor Speedway, described the new surface as "terrible". Busch claims he can't race "above the light gray" area (second groove) on the track.
While his car is "fast", Busch believes track position will be key because drivers "won't be able to pass".
"We felt like our car was balanced pretty well and it's just a matter of thinking what else we could do to make our car better," Busch said. "So thinking 'about tricks up our sleeve', no I didn't mean talking like the 48 (Jimmie Johnson) car -- I'm not (Brad) Keselowski.
"I just meant on behalf of us. Just thinking of some other things that we can try -- we're kind of out of ideas."
Good thing Busch hasn't lost his sense of humor through the tough times, just maybe his patience. When asked whether running additional truck or Nationwide races would help his performance, he insisted the "Cup program is fine".
"It's running good, it's fast," Busch said. "The only other thing I can do is run more Nationwide and truck races to get my bad luck out of the way there so it doesn't move over to Sunday.
"Besides that, how much better do you want me to run before a (expletive) engine blows up, you know? Or a brake rotor falls off? Or before you blow a right front tire? I mean, you name it, we've had it."
No wonder Busch went silent after Watkins Glen two weeks ago. There really was nothing to glean from the experience. Busch led 43 laps until Brad Keselowski knocked him out of the lead on the oil-slicked track on the final lap. A second win most likely would have locked Busch into the Chase.
So what upset Busch more, Keselowski bumping him or NASCAR not calling a caution for the oil?
"All of the above," Busch quipped, who has not spoken to Keselowski since the Watkins Glen incident.
For Busch, putting the Glen in the rearview mirror is probably his best strategy. If Busch hopes to qualify for one of the 12 Chase spots, he'll have to concentrate on his strengths.
"I don't think you can take any more risk than what we've already don't this year," Busch said. "It's not necessarily like I haven't been driving hard or have been asleep at the wheel. It's just a matter of factors haven't all led together and given us the opportunity to win one.
"I would certainly like to think that we can make the Chase and we'd have the opportunity to do so, but that's all we can do. I can't sit here and tell you how well or how great we deserve to be in the Chase or anything else. It's either going to come or it's not."
HOW FAR WILL THEY GO?
Carl Edwards is in a precarious position in the point standings.
Edwards, who led the points for the final seven races of last season and lost the championship in a tie-breaker to Tony Stewart, is currently 12th in the Sprint Cup point standings.
However, Edwards is winless in 56 races. Although Edwards is 38 points outside of the Chase, without a win in 2011, five drivers would leapfrog over Edwards in the wild-card standings.
Sure, Edwards has been strong at Bristol Motor Speedway in the past. He has won the Irwin Tools Night Race twice – but not since 2008. Bristol is a crap shoot, especially with the repaving of the surface since the spring race. Anything can happen on the half-mile track – and generally does.
But to what extent would Edwards go to win and potentially lock into the Chase?
"You never know what's gonna happen until the race has played out," Edwards said as Roush Fenway Racing teammate Greg Biffle entered the room. "Definitely, I think Greg's got enough wins (two). If he were in front of me on the last lap, I would go ahead and move him out of the way.
"You never really know. You could say that stuff and you can have a plan, but, really, it comes down to how the race is going. We're in a position right now where our 99 Fastenal team, we have to get that win. I'd say I would probably hang out there a little more than normal to get that win."
NUMBERS GAME
168 Race starts since Casey Mears started on the pole
2 Position, where Brad Keselowski will start from Saturday night, his highest starting spot at Bristol.
37 Position, where Jimmie Johnson will roll off in the Irwin Tools Night Race.
SAY WHAT?
What are Tony Stewart's expectations for his protégé Danica Patrick in NASCAR's Sprint Cup race Saturday night?
"My goal is for her just to finish the race," Stewart said. "It's not going to be an easy day for her by any means, but it's not supposed to be. We picked the hard tracks and you are going to have to run them at some point. The biggest thing is while she's not racing for points this year it's better to bring her now and let her get some experience here before she does come back and is racing for points next year."
Patrick will start 43rd in the field after qualifying was cancelled due to rain.