CUP: Hamlin Out An Estimated Six Weeks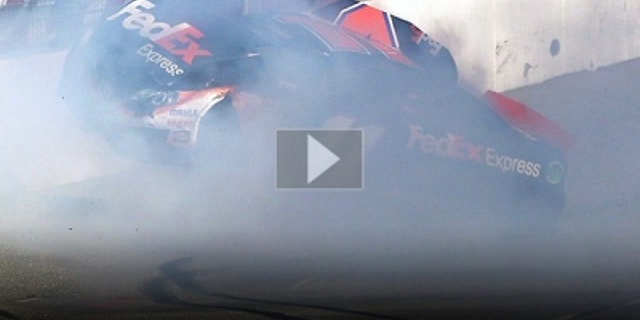 After being examined today, Joe Gibbs Racing driver Denny Hamlin is expected to be out for about six weeks while he recovers from an L1 vertebra compression fracture suffered Sunday at Auto Club Speedway.
According to a statement issued late Tuesday night by JGR, Hamlin was examined today by Dr. Jerry Petty of Carolina Neurosurgery & Spine Associates. Petty, a longtime physician to the NASCAR community, had treated Hamlin for prior back problems in his career.
"Dr. Petty determined that Hamlin will not require surgery, but will need time to properly heal, which is estimated around six weeks time," JGR's statement read in part. "Dr. Petty will make the determination when Hamlin will be able to return to racing this season."
The JGR statement added, "No decision has been made on a replacement driver for Hamlin during his absence from the NASCAR Sprint Cup Series."
JGR has Brian Vickers and Elliott Sadler, two former Sprint Cup regulars, available to pinch-hit, although Vickers is slated to drive the No. 55 for Michael Waltrip Racing in the next race at Martinsville Speedway.
Hamlin suffered the fracture in a last-lap crash on Sunday while racing with Joey Logano for the victory. Both drivers wrecked when Logano drifted into Hamlin, with Hamlin's teammate Kyle Busch winning the race.
While Logano had only minor contact with the outside SAFER barrier, Hamlin went hard, head-on into a section of inside wall where there was only concrete and no SAFER barrier. The impact was so violent that it briefly lifted Hamlin's car off the ground.
Hamlin and Logano had clashed the previous week at Bristol, when Hamlin turned Logano's car around late in the race. A brief pit-road confrontation and then a terse exchange of insults followed on Twitter.
The injury will end Hamlin's streak of 264 consecutive NASCAR Sprint Cup starts. It also will almost certainly eliminate him from any realistic chance at championship contention this season.
Even if Hamlin comes back and wins a couple of races, to qualify for a wild-card spot in the Chase for the Sprint Cup, he would have to finish in the top 20 in points at the conclusion of NASCAR's 26-race regular season. If he misses five or six races, that will be almost impossible.
"I wish I got good news today," Hamlin Tweeted. "I didn't."
Tom Jensen is the Editor in Chief of SPEED.com, Senior NASCAR Editor at RACER and a contributing Editor for TruckSeries.com. You can follow him online at twitter.com/tomjensen100.