CUP: Edwards Already Talking Chase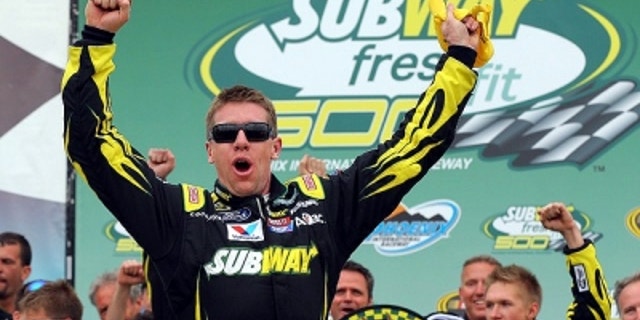 NEWYou can now listen to Fox News articles!
Carl Edwards had thought about the past long enough. Sunday, in the bright lights of victory, he was thinking about the future.
"To get a victory helps us be in a better position for the Chase," Edwards said after winning the Subway Fresh Fit 500 at Phoenix and ending a mystifying 70-race winless streak.
Edwards can be forgiven for already bringing up the Chase, which won't start for six months. He missed it last year and didn't find a lot of joy in the absence.
"That's one of the longest years of my life to work that hard and not get the victory," Edwards said. "I'm very, very happy to be back in the mix here. A victory is huge and for so many reasons. Last year we didn't make the Chase. For me to sit home while everybody was at the Chase stuff and at Vegas, that was a little bit of a shock to me. I did not like that at all."
Jimmy Fennig, a long-time crew chief and in-house technical wizard for team owner Jack Roush but new in his job with Edwards, typically tried to downplay his role in returning Edwards to victory lane, but there is little question that he will be a major factor if Edwards can fully reverse a negative trend.
"I don't think I'm the missing link," Fennig said. "Me, I go about my work a little different than some people do. I'm a hard worker. We sit there and we pay attention to detail on our race cars, and that's about it. I do the same thing I did with Matt (Kenseth), with Mark Martin in '98. That's the way I work."
Fennig is working with the majority of the team members who were part of Kenseth's solid Roush Fenway Racing team.
"We still have 85 percent of the team left from the (number) 17," he said. "That's still there, and everybody knows the way I operate, what I want, and we're just trying to deliver it to Carl."
Although Edwards and Fennig left the Daytona opener with a 33rd-place finish, that result was wildly misleading. Edwards was involved in five – count 'em, five – crashes during Daytona Speedweeks, and none was his fault. To bounce back from that disappointment and earn the win at Phoenix in fine fashion says a lot about the team's resilience.
"Those droughts are terrible, but the floodgates are open," Edwards said. "Hopefully, we can go out and do some good."
Mike Hembree is NASCAR Editor for SPEED.com and has been covering motorsports for 31 years. He is a six-time winner of the National Motorsports Press Association Writer of the Year Award.