CUP: Crushing Disappointment For Hendrick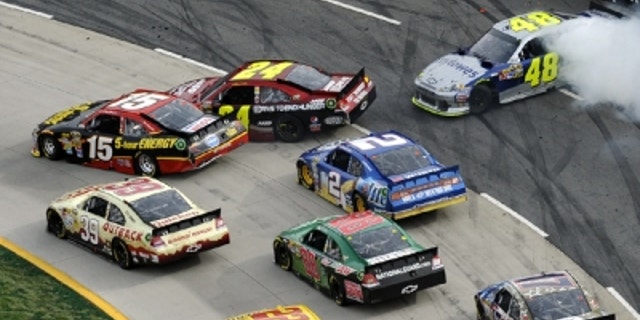 All the elements were in place for a glorious 200th NASCAR Sprint Cup victory for Hendrick Motorsports in Sunday's Goody's Fast Relief 500 at Martinsville.
The weather was beautiful on this glorious spring Sunday afternoon in southern Virginia, where the team won its first race way back in 1984, when it was a start-up outfit known as All-Star Racing.
Team owner Rick Hendrick was on the pitbox, dressed as always in a crisp white shirt and team hat. His drivers Jimmie Johnson and Jeff Gordon — who have 13 Martinsville race victories between them — dominated the race, leading 440 of the scheduled 500 laps and were out front near the end, with Dale Earnhardt Jr. not far behind.
And then, disaster.
After several laps of limping around at extremely slow speed, on Lap 497 David Reutimann inexplicably drove past pit road and stalled on the frontstretch, bringing out a yellow flag just seconds after Gordon had passed Johnson for the lead.
On the subsequent green-white-checkered restart, Johnson was on the outside and Gordon on the inside, both on tires that had about 130 laps on them. Behind Gordon, Clint Bowyer, who was on new rubber, got a shove from Ryan Newman and made a banzai move to go three-wide under Gordon in Turn 1. Johnson moved down into Gordon, who in turn moved into Bowyer. All of a sudden, the victory that seemed so certain evaporated as all three leaders wrecked and Newman held off AJ Allmendinger and Earnhardt on the next and final restart.
Gordon, who led 328 laps, finished the race 14th, two positions behind Johnson, who led 112 laps.
Needless to say, the Hendrick drivers were not happy after the race.
"I was pretty mad at him," Gordon said of Bowyer. "And he said he got hit from behind by the 39 (Newman) and I heard that from my team as well. I didn't get the best restart, so when he showed his nose under there, I thought, 'OK, we'll make it work,' but he came through there with so much speed, there was no way. I had nowhere to go and Jimmie had nowhere to go,."
"That inside lane is awfully inviting at times to dive bomb on people and the 15 (Bowyer) dive-bombed in there and I'm sure once he got in there he realized it wasn't the best idea," said Johnson. "And he was hoping 12 tires would be better than four. It turned me around, it turned the 24 (Gordon) around. It is what it is. It's short-track racing. I certainly wish it hadn't happened and I was everyone was more patient getting started on the restart. There's nothing we can do about it now."
Earnhardt was philosophical about what happened.
"The 15 dove into the bottom, and that's his right," said Earnhardt, who moved up to second in points. "He was doing what he wanted to do to try and win the race. It's green-white-checkers, so that's what you're going to get here."
Still, it was a huge disappointment for Johnson and Gordon.
"I really thought we had a chance to get Rick his 200th win today," said Johnson. "It's just unfortunate that this MyLowe's Chevrolet is all beat up and I didn't have a chance to get the trophy."
"That's just the way our year has been going and it can't go like this forever," said Gordon. "We're just going to keep working, keep bringing cars like that Drive To End Hunger Chevrolet and we'll be fine."
But the drivers involved were most angry about what Reutimann did.
Reutimann, of course, shares his No. 10 Tommy Baldwin Racing Chevrolet with Danica Patrick, and was desperately trying to keep it in the top 35 in owner points. After his 35th-place finish, the No. 10 is now 36th in owner points, one point out of 35th.
That Reutimann was trying to keep his points position was cold comfort to the competitors.
"I just don't know what the 10 (Reutimann) was thinking with a broken sway bar arm driving around there at 15 miles per hour for two or three laps and not pitting," Earnhardt said. "Come down pit road. Hell, how many laps down are you? Get on pit road, get out of the race ... and the end? It shouldn't have ended like that. It was unfortunate.
"I don't know what the hell the 10 car was doing," added Bowyer.
For his part, Reutimann appeared well and truly distraught afterwards, though it was too late then.
"I don't even know how the race ended up finishing, but I just hate that I was involved in anything that changed the complexion of the race so I got to apologize to the guys that it affected," he said. "It broke a tie rod or something like that. I was just trying to limp around there. We needed to finish next couple of laps to try to stay in the top 35. Then the motor had been breaking up for the last couple of laps. Broke a timing belt or whatever down the back straightaway, and the motor just quit. I would not have stopped on the freaking racetrack. I would have limped it around there and come to pit road, which is what I was trying to do."
Still, that didn't explain why he didn't pit when he could have.
"I know it sucks," said Reutimann, who was called to the NASCAR trailer after the race. "I hate it for everybody that it affected, but I mean I can't get out and push the thing. You know, it shut off. It's that simple. Gosh, I can't believe I'm — I was just trying to finish the day out and trying to stay in top 35, which is why we were trying to limp around out there. They gave me the black flag. We were coming to pit road, and it shut off. And that's far as I could go."
Tom Jensen is the Editor in Chief of SPEED.com, Senior NASCAR Editor at RACER and a contributing Editor for TruckSeries.com. You can follow him online at twitter.com/tomjensen100.