CUP: Almirola Gathering Momentum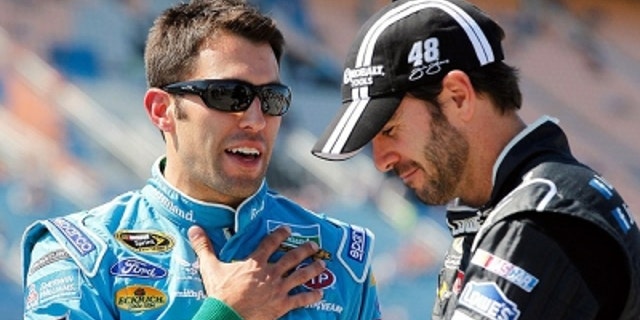 NEWYou can now listen to Fox News articles!
One of the quiet success stories of 2012 was the performance of Aric Almirola, driver of the No. 43 Richard Petty Motorsports Ford.
Almirola didn't win any races or set the world on fire in 2012, but he was steady and consistent, finishing 20th in points in his first full season in the NASCAR Sprint Cup Series.
More importantly, perhaps, he showed enough improvement late in the season to earn a contract extension with RPM. Given some of the chaos he's been through in his career — little of which was his own fault — Almirola was impressive this year.
A little background: Almirola began his NASCAR career with Joe Gibbs Racing in 2004, but left that team in mid-2007 after being pulled out of the car and replaced with Denny Hamlin while leading a NASCAR Nationwide Series race at the Milwaukee Mile. Hamlin went on to win the race, but the victory was credited to Almirola, who started the car.
In 2008, Almirola drove 12 races for Dale Earnhardt Inc., splitting time with Mark Martin. A year later, though, Almirola was released when DEI and Chip Ganassi's team merged and shrunk the number of cars they fielded.
That caused Almirola to take a couple of steps back in his career, steps which ultimately proved beneficial.
Almirola was runner-up in the NASCAR Camping World Truck Series driving for Billy Ballew in 2010 before moving to JR Motorsports' Nationwide operation in 2011.
It wasn't until January of this year that RPM hired Almirola, and even then his season was turbulent, beginning the campaign with Greg Erwin as his crew chief, then Mike Ford in May and Todd Parrott in October. Given all of that, to finish 20th in points, just two positions behind veteran teammate Marcos Ambrose, was pretty good.
Most encouraging was how Almirola's pace picked up at the end of the season.
In the final eight races of 2012, Almirola posted seven top 20s, two top 10s and a best of fourth at Martinsville. That was enough to earn him a return to the team for 2013.
"We've really hit on some good team chemistry here with Todd Parrott and the guys since we started working together two months ago, and the results have been showing on track," Almirola said prior to finishing seventh in the season-ending Ford EcoBoost 400 at Homestead-Miami Speedway. "We've had some fast cars and really good runs."
Team co-owner Richard Petty was impressed enough by the results to keep Almirola on the team.
"We're the best we've been," Petty said at Homestead. "In other words, we've seen improvement with the movements that we've made. Maybe some of the finishes aren't there, but the running has been better and the shop has been a lot better, so I think we'll pretty well stay with the setup we've got now.
"That's the reason we were wanting to make some changes here at the end of the year," Petty said. "We felt if we made changes this year and kind of get them working together to begin with, then you find out whether it's gonna work or not, so these guys have all been together for three or four race, so you find out 'yes, they can or no they can't.' That was one reason why it's been kind of screwed up the last six months. We were basically looking toward '13."
The pairing of veteran Parrott with Almirola was critical.
"I think when we made the crew-chief change that put his stock up," Petty said of the move. "We found out it wasn't a one-sided deal. We kept blaming him (Almirola) for some of the stuff that was going on and it wasn't but half of it his fault."
Tom Jensen is the Editor in Chief of SPEED.com, Senior NASCAR Editor at RACER and a contributing Editor for TruckSeries.com. You can follow him online at twitter.com/tomjensen100.