Cowboys beat Steelers in thriller for 8th straight win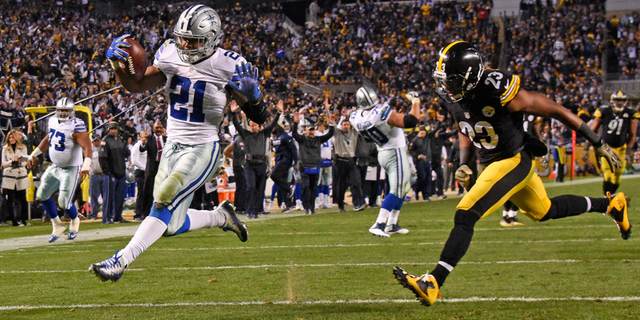 PITTSBURGH (AP) -- Ezekiel Elliott and the Dallas Cowboys just keep on rolling. Not even a fake-spike special from Pittsburgh Steelers quarterback Ben Roethlisberger could derail the hottest team in the NFL.
Elliott ran for 114 yards and two touchdowns -- both in the final two minutes -- and had an 83-yard catch-and-run for a score as the Cowboys pulled off a thrilling 35-30 victory on Sunday night for their eighth straight win.
Dak Prescott overcame an early fumble to pass for 319 yards and two scores for Dallas (8-1), which matched the longest single-season win streak in club history behind the two rookies who hardly seem to be bothered by the stage. Dez Bryant added six catches for 116 yards, including a 50-yard touchdown reception.
Roethlisberger threw for 408 yards and three touchdowns. Antonio Brown caught 14 passes for 154 yards, including a 15-yard score with 42 seconds left after Roethlisberger faked a spike in an attempt to surprise the Dallas defense.
The heady play -- a throwback to Hall of Famer Dan Marino's move while leading Miami to a victory over the New York Jets in 1994 -- gave the Steelers (4-5) a one-point lead.
It also gave Prescott and Elliott too much time.
Prescott deftly led the Cowboys to midfield. A facemask penalty on Pittsburgh's Ross Cockrell moved the ball well within field goal range. It ultimately didn't matter. Elliott sprinted 32 yards up the middle as a sizable portion of the largest crowd to ever watch a Steelers home game roared.
When Brown was pushed out of bound at the Dallas 20 on the final play, the Cowboys had perhaps their most impressive victory of an increasingly surprising season. Prescott also took another step toward stopping any discussion about who is the team's starting quarterback.
Veteran Tony Romo practiced during the week but spent his Sunday afternoon the same way he spent every other one this season: in street clothes watching Prescott do his thing.
The typically unflappable rookie was shaky early. He fumbled on the fourth snap of the game, giving the Steelers the early break they needed to take a 12-3 lead on a pair of short touchdown passes by Roethlisberger.
No matter. Prescott flipped a screen pass to Elliott that he turned into an 83-yard romp, the first touchdown reception of Elliott's young career and the longest by a Dallas running back since Herschel Walker raced 84 yards against Philadelphia in 1986.
TWO FOR THE SHOW?
The Steelers have made a habit of attempting 2-point conversions early in games hoping to dictate the tempo over the last two seasons, often with great success. They set an NFL record with eight successful 2-point conversions in 2015 and haven't been shy about doing it when all the offensive pieces are in place.
It stopped abruptly against the Cowboys. Three times Pittsburgh went for 2. And all three times the Steelers came up short, forcing them to chase points in an effort to chase down Dallas.
INJURIES
Cowboys: Tight end Geoff Swaim left with a pectoral injury.
Steelers: Backup linebacker Steven Johnson left with an ankle injury in the first quarter.
UP NEXT
Cowboys: Play their third AFC North team in as many weeks when they host Baltimore next Sunday.
Steelers: Head to Cleveland to take on the 0-10 Browns next Sunday.