Corey Anderson grinds way to dominant win over Jan Blachowicz at UFC 191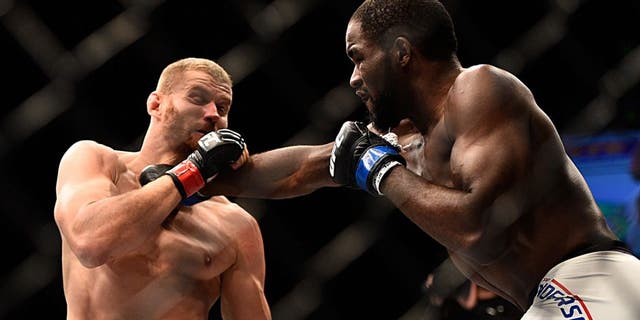 Corey Anderson used his strong wrestling base and improved Brazilian jiu-jitsu skills to earn a unanimous decision over Jan Blachowicz ON Saturday in their UFC 191 light heavyweight main card bout. Scores were 30-25, twice, and 29-26, all for Anderson.
He dominated on the score cards but the wrestler still took his lumps along the way. "I got my teeth knocked in again but coming out with a victory, that's priceless," he said afterwards.
In his previous bout, Anderson lost to Gian Villante and got his legs and jaw beaten up a bit. Blachowicz landed some real shots in the first round, but Anderson adjusted his strategy to a grappling-focused one and controlled most of the action from there on out.
After taking Blachowicz down in the first round, Anderson was forced to defend a good armbar attempt but did so and got back to his feet. In the second round, Anderson scored the top position after catching a kick from Blachowicz and driving through for a takedown.
Anderson peppered Blachowicz from on top with punches, and then thudded his head with elbows once he improved to half guard. In the third, Anderson went right back to the takedown well and put Blachowicz on his back once more.
Anderson never really let his opponent back up or into the fight, after that. Down the stretch, Anderson's superb conditioning allowed him to move quicker as Blachowicz stalled.
"I've got cardio and pressure forever," Anderson said.
"I don't get tired."
Anderson's win got him back on the left side of the ledger and improved his record to 6-1. Blachowicz's loss is his second straight, and drops his career mark to 18-5.