Conor McGregor tells Nevada 'good luck' trying to collect massive fine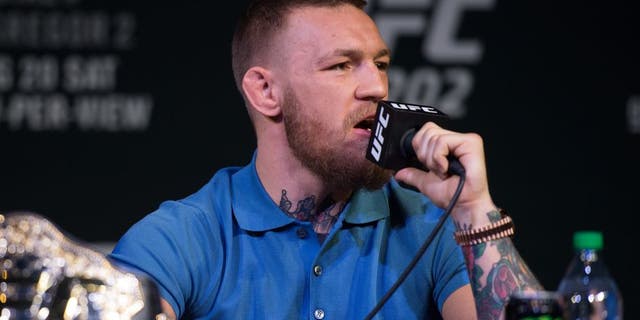 Conor McGregor doesn't plan on fighting in Nevada again any time soon and he issued a defiant statement against the athletic commission on Friday.
McGregor was hit with a whopping $150,000 fine earlier this week when the Nevada State Athletic Commission held a hearing to determine his punishment after throwing water bottles and cans during the UFC 202 pre-fight press conference back in August.
While the Nevada Attorney General's office asked for only $25,000, the commission then decided to up the amount to 5-percent of McGregor's $3 million purse, which equaled out to $150,000.
Now McGregor says that he's not planning on fighting in Nevada any time in the near future.
"I don't see Nevada in my future, for the foreseeable future is how I see it," McGregor told Rolling Stone. "I'm free to do what I want. I'm good. I'm good. New York, New York. That's what I think."
McGregor is set to headline the upcoming UFC 205 card in New York City, which is expected to bring in a record breaking number at the box office as well as another huge showing on pay-per-view as well.
As far as dealing with the commission, McGregor actually called in from Ireland on Monday to take responsibility for his part in the press conference melee that resulted in several bottles and cans being thrown between the Irishman and his opponent Nate Diaz.
McGregor apologized to the commission, but ultimately he was still hit with a massive fine and now the UFC featherweight champion says he has no intentions of paying it.
"I owned up. I manned up. I'm here. I apologized. I'm not trying to blame nobody, although they fired the rounds off first," McGregor said. "I didn't think they would even go that route because I didn't think this was like a real thing. Are they going to come and arrest me or what the (expletive) is that?
Nevada also gave McGregor 50 hours of community service, which he has six months time to complete. If McGregor doesn't pay his fine or complete his community service, he could face a hard time getting a license to fight again in the state but from the sound of things that won't be a problem.
McGregor is turning his attention to the New York market, which just opened up this year and UFC president Dana White has already said no matter where the Irish superstar competes, the world will follow.
"Conor McGregor doesn't need Nevada," White said. "He can fight anywhere. He can fight in Iowa. We could put his fight off the coast of anywhere. This makes no sense for the state. It's terrible."