Clippers bounce back to even series 1-1 with Jazz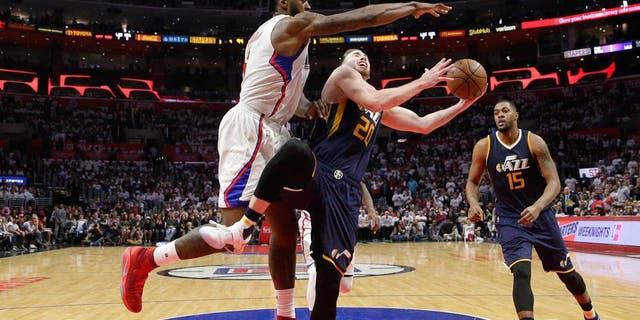 LOS ANGELES (AP) -- Buoyed by a newfound sense of urgency, the Clippers took it to the Utah Jazz from the opening tip. The patch of real estate under the basket was all theirs, all game.
Blake Griffin led a smash-mouth revival of Lob City with 24 points and DeAndre Jordan had a double-double in the Clippers' 99-91 victory on Tuesday night that evened their playoff series at 1-1.
Jordan finished with 18 points and 15 rebounds, and Chris Paul added 21 points and 10 assists for the Clippers, who crushed the Jazz in the paint, 60-38.
"It was big," Griffin said. "Our spirit was great, and I think it just carried over into the first quarter, with everybody being aggressive. That's what we need. Miss or make shots, we have to be aggressive like that. Our offensive aggressiveness will carry over to defense."
Los Angeles stormed to a 12-point lead in the first quarter, reeling off the kind of dunks that earned the team's Lob City moniker years ago. Jordan's tomahawk jam put an exclamation on the end of the period.
The Big Three of Griffin, Jordan and Paul combined on 10-of-13 shooting and six rebounds in the first, when the Clippers shot 65 percent. They outscored the Jazz 18-0 in the paint.
"They played with an intensity and level from the beginning of the game," Jazz coach Quin Snyder said. "It was impressive."
There was more to come in the second. Griffin powered down two dunks and Jordan again ended the scoring with an alley-oop slam from Jamal Crawford that sent the Clippers into halftime leading 51-42.
"We got a lot of stops early in the game," Jordan said. "We were able to get out and run in transition and get some easy dunks and post steals for Blake, and then it opens up for our shooters."
Gordon Hayward led the Jazz with 20 points. Joe Johnson, whose floater at the buzzer gave them a two-point win in Game 1, added 13 points off the bench.
The Jazz never led in the game and got no closer than six points in the fourth.
"The first quarter is what really got us, and they hit us a little bit, set us back in Game 1, as well," Hayward said. "We definitely have to be better in the first quarter, but besides the first quarter we played them pretty even."
Utah closed within three points early in the third on a basket by Derrick Favors, who started in place of injured Rudy Gobert. But Paul answered with a 3-pointer, then stole the ball from George Hill and cruised in for a layup before J.J. Redick scored, capping a 7-0 spurt to push the lead back to double digits.
Without Gobert to patrol the middle, the Clippers easily had their way.
"We got to find other ways to protect the paint. That's the challenge," Snyder said. "There's no sense lamenting his absence. Just got to figure out how to be better."
The Clippers played defense down the stretch. Jordan came out to the perimeter to hound Hayward, while Griffin got in Johnson's face. At one point, Paul's mouthpiece went flying and landed on the opposite side of the court.
Griffin took a page out of Paul's repertoire and buried a 3-pointer from the left corner, extending the Clippers' lead to 97-88 with 1:35 to play.
TIP-INS
Jazz: Gobert, who injured his knee just 17 seconds into the series opener, joined two assistant coaches for a pregame meal in the media dining room, an area rarely visited by players. "He's trying to get back as quick as he can," Snyder said. … In the second half, four costumed cows jumped up and down behind Utah's basket, trying to distract free-throw shooters as part of a chicken sandwich promotion.
Clippers: They made just eight trips to the free throw line. … Jordan fouled out with 52 seconds left in the game and Paul had four fouls. … Griffin received a technical in the first quarter; the team also had one in Game 1.
OUTSIDE STRUGGLES
As good as the Clippers were inside, they struggled from outside. They were 44 of 84 from the field. Shooting guards J.J. Redick and Jamal Crawford exemplified the drought. Redick was 2 of 7 for 4 points, while Crawford was 3 of 12 for 10 points. Combined, the duo missed all seven of their 3-point attempts. "We need to open it up a little bit. We've got to make some shots," Rivers said.
UP NEXT
Game 3 is Friday in Salt Lake City.