Clemson's Swinney: Disgruntled Tigers fans wrong to take out frustrations on QB Cole Stoudt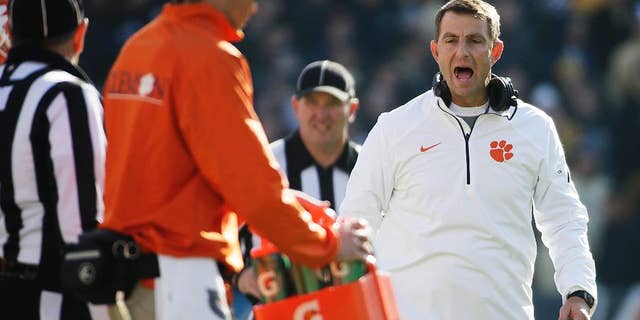 COLUMBIA, S.C. – Clemson coach Dabo Swinney has a message for those fans who want to take out the Tigers recent offensive slowdown on quarterback Cole Stoudt: Get a life.
Swinney defended the senior who's struggled to get Clemson's attack moving the way it had the previous three years — and the way it does with freshman Deshaun Watson behind center. But the coach said with Watson out again with an injury, meaning Stoudt is the Tigers (7-3) best option to win football games.
Swinney said it's a shame anyone would want to boo Stoudt when he takes the field Saturday against Georgia State (1-9) after everything he's endured. Then again, there was plenty of displeasure among Tiger fans attending last week's 28-6 loss to No. 17 Georgia Tech (No. 18, CFP).
Watson, just back from missing three games with a broken finger in his throwing hand, was wincing on the field and grabbing his left knee after a run. In came Stoudt, who finished off a win over Louisville after Watson's earlier injury then led Clemson to three victories while Watson recovered.
This time, though, Stoudt was not up to the task. He threw three interceptions, two that were returned for touchdowns. Stoudt was benched for third stringer Nick Schuessler in the second half.
But with Watson doubtful for Saturday, Swinney said Stoudt will start and give a large home crowd the chance to vent their disappointment.
"People need to get a life if they're going to boo a guy like Cole," Swinney said. "He's a class act and deserves to be treated with class. It's my hope Cole will finish this thing great."
To do that, offensive coordinator Chad Morris said Stoudt must regain the swagger he had earlier this season when he won the job over Watson.
"We have to get Cole back to playing the way he did against Georgia and the confidence level he was playing at," Morris said.
No matter who starts at quarterback, the Tigers will be huge favorites to put away the Panthers. Georgia State fell at Washington 45-14 last September.
"Hopefully we learned that we can only worry about what we control," Georgia State coach Trent Miles said. "We can't control the crowd or the weather, we can't control their size and speed. We can only control our preparation, our effort and our execution, so hopefully we go out there and just worry about us and play as hard as we can."
___
Things to watch when Clemson plays Georgia State:
DEFENSIVE BOUNCE BACK: Clemson held Georgia Tech to 353 yards of offense, more than 100 fewer than the Yellow Jackets have averaged a game this year. Still, the Tiger defenders were not pleased with their efforts and hope to get back on track against the Panthers.
PLAYING TOUGH: Georgia State gave Washington all it could handle into the second half in its trip West earlier this season. The Panthers held a 14-0 lead at the half and were still up 14-7 in the third quarter before the Huskies got going in a 45-14 victory.
DEATH VALLEY EXPERIENCE: While Georgia State coach Trent Miles only experience at Clemson was visiting his school's basketball team taking on the Tigers in last year's NIT, offensive coordinator Jeff Jagodzinski knows what it's like to quiet large crowds at Death Valley. Jagodzinski was Boston College coach in 2007 when the Eagles used a 43-yard TD pass from Matt Ryan to Rich Gunnell for a 20-17 win that eliminated Clemson from the ACC Atlantic Division race.
WAITING ON WATSON: Freshman quarterback Deshaun Watson likely won't play against the Panthers with the hope he's ready to face rival South Carolina the next week. Swinney feared the worst when Watson grabbed his left knee. Instead, tests showed he had a sprained ligament and bone bruise, leaving the possibility he could return.
AIR ARBUCLKE: Georgia State quarterback Nick Arbuckle leads the Sun Belt Conference with 279 yards passing. He's also set school marks this season with 214 completions, 2,812 passing yards and 19 touchdown passes.