Chase update: Who is in the most trouble heading to Talladega?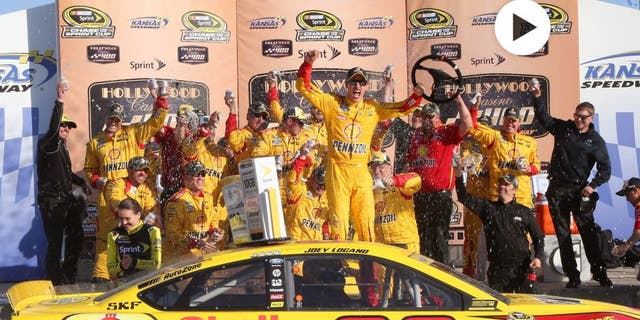 NEWYou can now listen to Fox News articles!
One driver is golden, two are in deep trouble and nine are somewhere in between following Joey Logano's victory in Sunday's Hollywood Casino 400 at Kansas Speedway.
Logano's victory last week at Charlotte Motor Speedway locked him into the Eliminator Round of the Chase for the Sprint Cup, which begins in two weeks at Martinsville Speedway.
Since Logano has swept both of the first two races of the Contender Round of the Chase, he's the only driver guaranteed to race in the Eliminator Round.
Next week's winner at Talladega Superspeedway -- assuming it's someone in the Chase other than Logano -- will also advance, along with six other drivers, making a total of eight. Four of the 12 now in the hunt will be eliminated after Talladega.
Unofficially, the four drivers who are now below the elimination line are Kyle Busch, who is six points behind eighth-place Martin Truex Jr.; then Ryan Newman (-8 from Truex), Dale Earnhardt Jr. (-31) and Kenseth (-35).
But realistically, Logano is the only driver who can go to Talladega next week and relax. Second-place Denny Hamlin is only 18 points up on ninth-place Kyle Busch. Any of the drivers in second through 10th place could fall out of the Chase next week, while realistically, the only way Earnhardt or Kenseth will advance is with a victory at Talladega.
Earnhardt said he's ready.
"Talladega's the track I'm ready to go to," said Earnhardt, who won the first Talladega race this year. "That's our best shot to win."
For his part, Kenseth insisted Talladega will be business as usual. "It's the same," he said of his approach for the next race. "There's some things you can control and some things you can't."
For everyone else, Talladega looms as a giant wild card.
"We'll just go to Talladega and do what we normally do, we'll be alright," said Carl Edwards, who is fourth in points, just 12 points ahead of his Joe Gibbs Racing teammate Kyle Busch. "There's nothing normal about Talladega, so we'll see what happens."
Here are how the updated points standings look after Kansas: