Carlos Carrasco in a Funk, Martin Prado is Back, & K-Rod Gets New Crew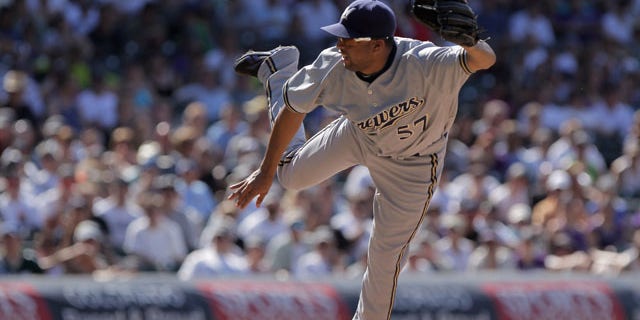 LOST ON THE MOUND
Cleveland's Carlos Carrasco lost his third straight start Saturday after having won seven of his last nine starts. Carrasco allowed three runs, all earned, five hits, walked two and struck out six. Prior to Saturday's start, Carrasco had given up 11 runs and 17 hits in just seven innings, going four innings against the Yankees in his start on July 5 and lasting only three innings against the Blue Jays on July 10.
GUESS WHO'S BACK?
Carlos Guillén returned for the first time in 11 months to the Tigers lineup after recovering from a left knee injury Saturday. Guillén started at second base and went 1 for 4 as Detroit got blanked by the Chicago White Sox, 5-0. He was back in there yesterday, hitting a RBI single that broke a 3-all tie in the bottom of the sixth inning to lead the Tigers to a 4-3 victory over Chicago … José Reyes will play in a minor league rehab game Monday with the Brooklyn Cyclones, the Mets' short-season A-ball affiliate in the New York Penn League. Mets manager Terry Collins said after yesterday's game that he anticipates Reyes to play one game and then most likely return to the lineup against St. Louis on Tuesday for the start of a three-game series. Reyes has been out since July 3 with a strained right hamstring … Atlanta's Martín Prado returned from the disabled list Friday night after being out since June 8 with a staph infection in his right calf and he came out swinging. Prado had two hits, including a homer, scored two runs and had two RBIs. He started at third base and will most likely do so over the next two weeks as Chipper Jones recuperates from a knee surgery.
CLOSING THE BOOK ON K-ROD
With a $17.5 million option for next year set to vest if Francisco Rodríguez had finished 55 games this season, the New York Mets parted ways with the closer and traded him to Milwaukee for two players to be named later last Tuesday night just before the All-Star concluded.
The Mets just couldn't justify retaining Rodríguez with the amount of money that he was set to make next season, especially since shortstop Reyes would be a free-agent at the end of the season.
In an ironic twist, a list of teams to which Rodríguez could have accepted trades was never submitted to the Mets, thereby making the deal much easier for the team to complete without having to approach the closer for permission.
Rodríguez, who inked a three-year, $37 million contract before the 2009 season, was 9-10 with a 3.05 ERA and had 83 saves in 165 games as a Met.
Things went downhill in a disappointing season for the Mets last summer when Rodríguez assaulted his then-girlfriend's father at a family lounge located down the hallway from the team's clubhouse at Citi Field.
Rodríguez spent a night at a cell in the ballpark, fractured his right hand in the fight and missed the rest of the season.
This season Rodríguez went 2-2 with a 3.16 ERA and got 23 saves in 26 games.
On Wednesday, Rodríguez thanked his fans on Twitter saying: "I want to thank all Mets fans for the great support during these two and half years that I wore the jersey."
One player who says he expects to finish his career with the Mets is Carlos Beltrán. He has a full no-trade clause in his contract and can block any deal. Beltrán reiterated last week that he wants to end his career with the Mets but is also aware that the team could opt to trade him.
TWIST OF FATE FOR SLUGGER
Toronto's José Bautista has missed his last three games after injuring his right ankle on a slide at third base.
Bautista, who leads the majors with 31 home runs, got hurt when he caught a spike in the dirt on Thursday night.
He hit off a tee before Sunday's game and could return to the lineup when the Blue Jays open up a series against the Mariners.
"His absence in the lineup is a hole to fill," said Toronto manager John Farell. "He's our leader, he's our most productive offensive player…a substantial loss when he's not in the day in and day out."
Adry Torres, who has covered MLB, NFL, NBA and NCAA basketball games and related events, is a regular contributor to Fox News Latino. He can be reached at elpiloto137@gmail.com or follow him on Twitter: @adrytorresnyc.
Follow us on twitter.com/foxnewslatino
Like us at facebook.com/foxnewslatino