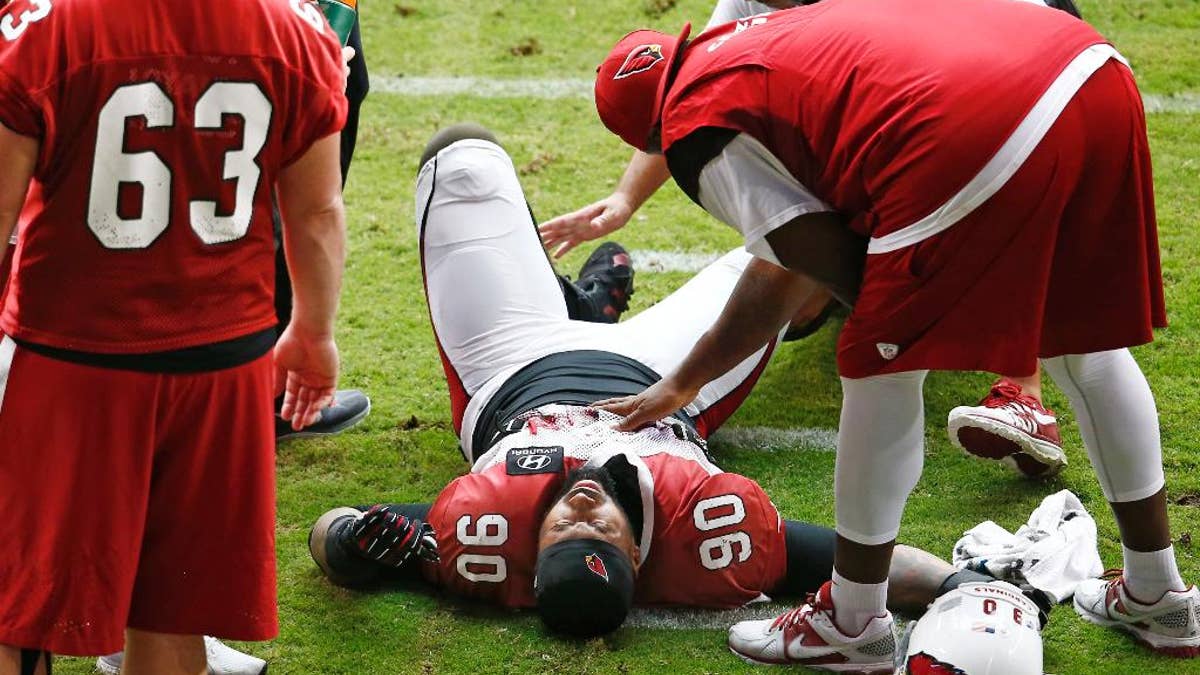 GLENDALE, Ariz. – Arizona Cardinals defensive tackle Darnell Dockett, one of the most durable players in the NFL over the past decade, tore the ACL in his right knee during practice Monday and will undergo season-ending surgery.
The team said the extent of the injury was revealed in an MRI.
The 6-foot-4, 290-pound Dockett has missed only two games in 10 NFL seasons. He has started 156 of the 158 games in which he appeared.
Dockett was hurt in an 11-on-11 drill. He limped away but had to be helped onto a cart. Dockett lay on his back as he was carted off the field.
Before the extent of the injury was known, defensive tackle Calais Campbell talked about the importance of Dockett to a defense that was ranked sixth in the league last season.
"He's a great player, a guy we count on day in and day out to be a leader and take us where we want to go," Campbell said.
Dockett, Campbell and nose tackle Dan Williams formed a formidable defensive front that helped the Cardinals rank first against the run.
Two of Dockett's teammates on Arizona's 2009 Super Bowl team were quick to tweet their support.
"I literally been sick to my stomach for the past couple hours thinking about (Dockett), one of my closest friends," Chicago safety Adrian Wilson said. "Speedy recovery my friend."
New York Giants safety Antrel Rolle wrote "everyone plz say a prayer for one of my best friends and wish strength and a speedy recovery plz. No injury will keep him down."
Dockett is a three-time Pro Bowl selection and four-time team captain.
"I played against him for three of those years when I was in Seattle," Cardinals tight end John Carlson said. "He's a beast."
Dockett has spent his entire career with Arizona. He and Larry Fitzgerald are the longest-tenured players on the squad. Both were drafted by the Cardinals in 2004 — Fitzgerald in the first round out of Pittsburgh, Dockett in the third round out of Florida State.
Dockett played in his first 104 games before a shoulder sidelined him for one contest in 2010. He missed another game in 2012 with a hamstring injury.
The knee injury is another blow to the already-depleted middle of Arizona's defense.
Inside linebackers Karlos Dansby and Daryl Washington, the heart of the unit a year ago, are gone. Dansby signed a free-agent contract with Cleveland. Washington is suspended for the season for violating the league's substance abuse policy.
Arizona could, at least, get a bit of good news later this week when safety Tyrann Mathieu is taken off the physically unable to perform list. He is coming back from surgery to repair a torn ACL and LCL.
"Praying for my brother," Mathieu said in a tweet.
The vocal, emotional Dockett had talked about the optimism of the coming season, saying that anything short of the playoffs would be a big disappointment. The Cardinals were 10-6 last year, in Bruce Arians' first season as head coach, but failed to make the playoffs.
The injury will further test the skills of defensive coordinator Todd Bowles.
Frostee Rucker moved into Dockett's spot with the first unit for the remainder of Monday's practice. Rucker, an eight-year NFL veteran, appeared in all 16 games for Arizona last season, one as a starter. He started all 16 games for Cleveland in 2012.
Others who could play the position are third-round draft pick Kareem Martin out of North Carolina and fifth-round draft pick Ed Stinson out of Alabama.
The team also might look at the free-agent market and could pick up someone when other teams make late cuts.
Earlier on Monday, Arians criticized the play of that very defensive front in Saturday's 30-28 loss at Minnesota.
'Some veteran guys were in the wrong gaps," he said. "It's inexcusable to play 10 plays and have three or four mental errors."
NOTES: Jay Feely, in danger of losing his kicking job, said he knows he is competing not only for a spot on the Arizona roster but for a place on other teams should he be cut. Rookie K Chandler Catanzaro is challenging Feely. Arians said the two might split duties Sunday night against Cincinnati. ... QB Ryan Lindley was "up and down" in his performance against the Bengals, Arians said. He is competing with rookie Logan Thomas for the No. 3 quarterback job. Thomas was 11 of 12 for 113 yards against Houston in the preseason opener.
___
Online:
AP NFL website: www.pro32.ap.org and www.twitter.com/AP_NFL