Caps-Lightning to battle for Southeast Division lead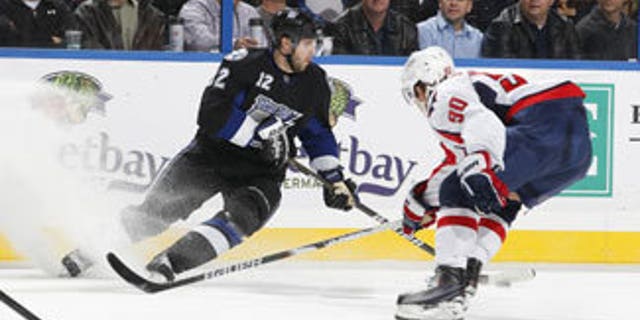 NEWYou can now listen to Fox News articles!
With 35 days left in the regular season, the playoff races in each conference simply are on fire. Every game has added significance, with points at a premium, as teams jockey for positioning. NHL.com is here to give you a Down the Stretch daily that will highlight what you need to know about that night's games.
Here is the installment for Monday, March 7:
Hoping to Capitalize: The Washington Capitals haven't lost since their roster makeover late last month saw them add Jason Arnott, Dennis Wideman and Marco Sturm. They put their four-game winning streak on the line Monday in Tampa, where they have a chance to extend their lead in the Southeast Division to three points.
The Capitals have not blown away the competition, winning each game in their streak by a single goal, including two in overtime. In fact, the Capitals have won seven of their last nine games -- all by one-goal margins. Lately their defense and goaltending have been all the rage; Washington has scored only 11 goals during its win streak, but given up only seven.
Michal Neuvirth has been in net for all four wins, rebounding nicely after giving up six goals in a shutout loss to the Rangers on Feb. 25. He has a 1.74 goals-against average and .942 save percentage since that game.
The Capitals are spreading the puck around nicely, too. Eight players have combined for the 11 goals during the win streak, with Alexander Semin, Brooks Laich and Nicklas Backstrom the only multiple-goal scorers.
The Capitals' winning streak has coincided with Tampa Bay's three-game losing streak. The Lightning haven't lost more than three games in a row all season. They've been outscored 8-4 by the Devils, Bruins and Canadiens during this current skid. Leading scorer Steven Stamkos has 1 point in the last five games.
Alive for five: The Dallas Stars will climb to fifth place in the Western Conference with a win Monday in Los Angeles. The Kings would leap to sixth if they knock off the Stars. No team can fall out of the top eight Monday because the only other game involving Western Conference teams is between St. Louis and Columbus.
This is the first of three meetings between the Stars and Kings before the end of the regular season. Dallas center Brad Richards likely will miss his 10th straight game with concussion-related symptoms.
The Stars are 4-0-1 since losing five straight and are coming off a huge 3-2 win in San Jose. The differences between their play during the current point streak and the prior losing streak are striking.
Dallas is scoring exactly two more goals per game and giving up one fewer. Kari Lehtonen has a .928 save percentage during the point streak. He combined with Andrew Raycroft for a .900 save percentage during the losing streak.
A win Monday would be big on many levels for the Kings. They are looking to finish their six-game homestand with a winning record, and right now they're 3-2-0. When it's over they'll start a four-game road trip Wednesday in Detroit. They'll also play in Columbus, Dallas and Nashville before coming home.
The Kings lost to Vancouver 3-1 on Saturday despite Dustin Penner scoring his first goal since being acquired last week. The Kings have scored just two goals in their past two games, but thanks to Jonathan Bernier's shutout were able to beat the Coyotes 1-0 this past Thursday.
Falling fast: Columbus technically remains in the playoff race, but the Blue Jackets are winless in four straight and now are 12th, seven points behind the eighth-place Kings. They are closing a five-game road trip in St. Louis on Monday and are hoping to salvage two points before heading home for two, against the Blues and Kings.
After pulling back in the race with a strong showing in February, the Jackets now are closer in points to the 13th-place Blues than they are to the Kings. They just haven't been able to make their breaks on the road trip. Columbus has lost three one-goal games, including a 2-1 shootout decision in Vancouver. It's the only point the Blue Jackets have grabbed on the trip.
Columbus may be feeling the loss of Derick Brassard, who has missed the last seven games with a hand injury and is not traveling with the club. In his absence, coach Scott Arniel is trying to find the right center for Rick Nash. He tried Antoine Vermette in that spot two games ago and was thinking of turning to Derek McKenzie this past Friday against the Flames, but instead used R.J. Umberger.
Nash has gone four games without a point.
Follow Dan Rosen on Twitter at: @drosennhl