C.J. McCollum and Damian Lillard put on a show in 1st half of Game 1 vs. Warriors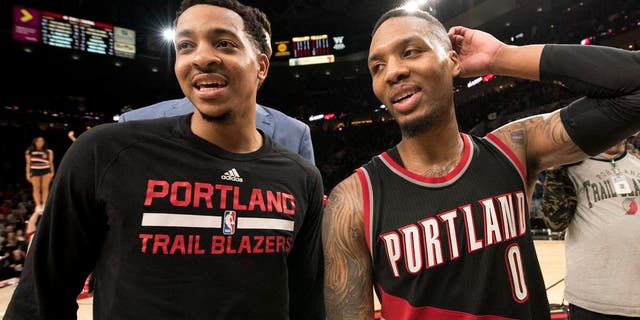 NEWYou can now listen to Fox News articles!
The popular choice for best backcourt in the league got an up-close look what might be the best guard tandem in the NBA on Sunday. C.J. McCollum and Damian Lillard combined for 48 points in the first half the most the Blazers star duo has combined to score before halftime in their careers as Portland entered the break tied at 56 with the heavily favored Warriors.
McCollum hit 11 of his 15 shots, including 3 of 4 from deep, and scored 27 points while Lillard connected on 6 of his 11 shots for 21 points. Lillard hit one of his two 3s from a range that many believe is Steph Curry distance.
The Blazers Twitter account begged to differ.
McCollum put on a show in a variety of ways in the first half.
The Blazers tandem, who led all backcourts by combining to average 50 points a game in the regular season, got little offensive help from their teammates, who combined to score just eight points on 3-of- 16 shooting. The Warriors backcourt of Curry and Klay Thompson was held somewhat in check, combining to score 20 points on 7-of-19 shooting, but Golden States depth offset any issues the Splash Brothers had in the first half.
The Warriors shot 50 percent from the floor, 90 percent from the free-throw line and 44 percent from deep a recipe that usually leads to a big lead but find themselves tied at the half.
David Richard-USA TODAY Sports | David Richard